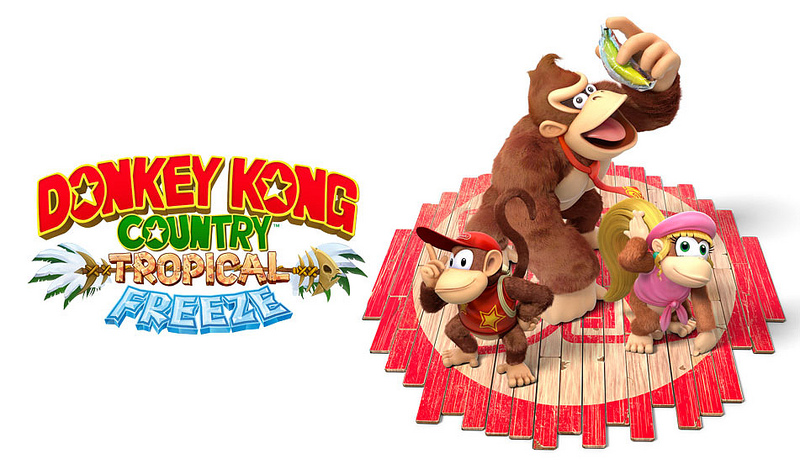 Fans of the Donkey Kong Country Series and the recent 3DS remake will be happy to know that a new Donkey Kong game from Retro Studios is on the way. Donkey Kong Country Tropical Freeze is coming for Wii U and will be released some time in November this year. The game will remain a 2D platformer and will feature HD graphics (a first for the series), Dixie Kong as a playable character and different camera angles to provide a fresh visual and game play experience. Underwater levels will also be returning to the Country series (will Enguarde be back ?) as will David Wise, the composer of the music for the original trilogy. Judging from the music in the trailer he still has the gift to produce an incredible soundtrack. Unfortunately, the Kremlings will not be returning in Tropical Freeze. This time the threat to Donkey Kong Island is a new breed of enemies based on sea life such as penguins and seals dressed as vikings. Well at least it's better than the Tikis.
A Developer Direct was also hosted by the Executive Producer of the game, Kensuke Tanabe, who revealed some further details on game play and story. Most surprising is that a fourth playable character will be included in the game, but who that is remains a secret for now. My money is on Kiddy Kong as that will mean all the Kongs from the original trilogy will be in one game for the first time. Kensuke discussed new game play mechanics such as the ability to pull items from the ground as well as being able to pick up and throw enemies.
Be sure to check out the official reveal trailer for Donkey Kong Country Tropical Freeze below, as well as the Developer Direct just above the comments. While your here, check out all our E3 2013 coverage to catch up with all the game announcements and latest information on the newest games. Let us know how you think Nintendo's E3 Direct stacked up against the other conferences in the comments below.