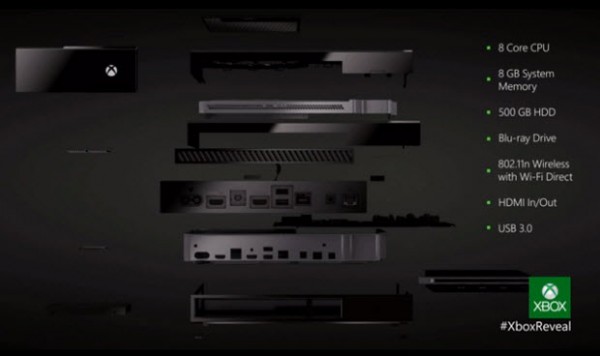 The Xbox One architecture was detailed during the Xbox One Reveal event and is as follows (can also be seen in above image):
8 Core CPU, Native 64 bit, 8GB of System Memory (RAM), 500GB HDD, Blu-ray Drive, 802.11n Wireless with Wi-Fi Direct, HDMI Out and USB 3.0. The Xbox One OS is actually 3-fold: the Xbox OS, the kernel of Windows providing consistent access to web and apps and a third OS that connects both to enable the instant switching capabilities among many other functions.
The new Kinect sensor will be paired with every Xbox One. It features a 1080p HD RGB camera, can track in 30 FPS color, makes use of Time of Flight (TOF) technology and includes Microphone Arrays. But the Kinect is not the only form of control (other than the controller, of course). Tablets can also become a remote control for the console with utilisation of SmartGlass. Speaking of the controller, we're being promised lag-free controls and Kinect co-operation whereby the Kinect will also track the controller in your hands, enabling you to pull off gestures with it such as raising the controller to translate into raising a shield in a combat game.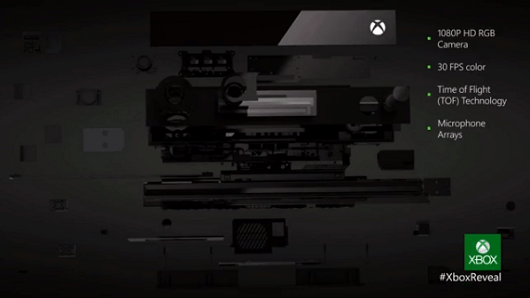 Xbox Live was also spotlighted. It will have the power of the cloud at its fingertips. Memberships will be based on the same subscriptions you have today. The server number for Xbox Live has increased dramatically (an understatement) from 15,000 to 300,000 servers for Xbox One; "more than entire world's computing power in 1999". You can also capture moments and save them to cloud (hmm, heard that somewhere before…) Achievements were also touched upon; the new and expanded achievements system captures video of your epic moments, continues to grow a game's achievements over time and rewards you in new ways, and your Gamerscore carries over from Xbox 360. Finally, asynchronous matchmaking will allow you to search in-game for perfect matches based on specific player stats.
Check out the video directly below which features executives talking about the Xbox One. Stay locked to Capsule Computers for more on the Xbox One.