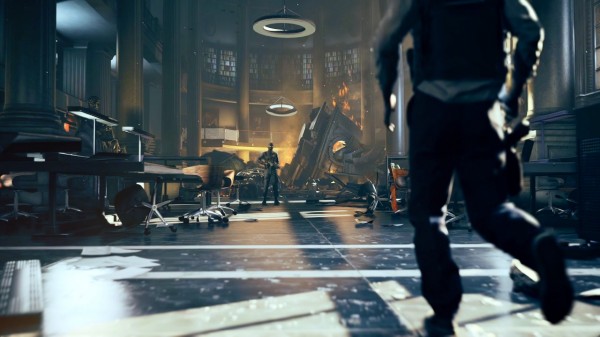 UPDATE: We now have an official description on the game that gives a lot more insight into what the title is all about. Intriguing to say the least.
Developed exclusively for Xbox One, Quantum Break blurs the line between television and gameplay, integrating the two into one seamless, uniquely immersive experience. From Remedy Entertainment, the critically-acclaimed creators of Alan Wake and Max Payne comes a revolutionary entertainment experience that weaves the cinematic action of intense gameplay with the tension and drama of scripted television, creating a world where each has a direct impact on the other.

In Quantum Break, our desperate hero fights a highly personal battle to save the future before time literally runs out. As time breaks down, impossible, split second moments of destruction turn into epic stages of time powered action. The actions you take, and the choices you make, shape your experience as the narrative unfolds. As you play, a personalized 'director's cut' of the show is created just for you, based on the decisions you make during the game.
---
Microsoft are investing in more worldwide studios than ever before for the Xbox One catalog of games. There are currently more titles in development simultaneously now than at any other point in the history of Xbox.
15 exclusives will be released in the first year from launch of the console, 8 of which are brand-new franchises. And this is one of them. Quantum Break comes to us from Remedy Entertainment; the creators of Max Payne and Alan Wake. The first trailer for the title can be seen embedded at the bottom of this article, and blends live-action scenes with CG footage.
The initial description as found on the Xbox YouTube channel reads;
Master time to survive the present… and save the future. From the creators of Alan Wake and Max Payne comes Quantum Break, a revolutionary entertainment experience that blurs the line between gameplay and television.
Check out stills from the trailer below and stay tuned to Capsule Computers for more on this fresh IP.