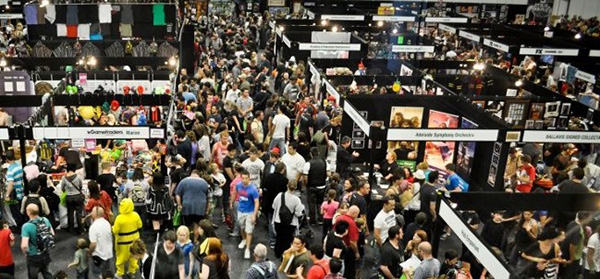 Oz Comic-Con 2013 will once again be heading to Melbourne this July 6th and 7th and it's bringing a whole load of guests and celebrities with it.
Geeks, pop culture fans and comic book collectors will enjoy a convention that saw a record-breaking 35,000 attendees last year and this year it's ready for more with a new and larger venue, extra seating allocations in each auditorium, expanded floor space for vendor stalls and more guests that fans have requested.
Oz Comic-Con Melbourne 2013 will be held at the Royal Exhibition Building which will house more retailers, gaming demonstrations and exclusive masterclasses.
Fans will get a chance to meet the stars of Charmed, Once Upon a Time, Stars Wars and many more. Currently, the enormous guest lineup includes:
Film & TV Guests
Cary Elwes – The Princess Bride, Saw, Robin Hood: Men in Tights
Shannen Doherty – Beverly Hills 90210, Charmed, Heathers
Patricia Quinn – The Rocky Horror Picture Show
Nell Campbell – The Rocky Horror Picture Show, Shock Treatment
Craig Parker – The Lord of the Rings: The Fellowship of the Ring, The Lord of the Rings: The Two Towers, Spartacus: Blood and Sand, Spartacus: Vengeance, Legend of the Seeker, Underworld: Rise of the Lycans
Tim Rose – Star Wars Episode VI: Return of the Jedi
Thomas Dekker – Heroes, Terminator: The Sarah Connor Chronicles, The Secret Circle, A Nightmare on Elm Street (2010)
Holly Marie Combs – Charmed, Pretty Little Liars
Brian Krause – Charmed
Raphael Sbarge – Once Upon a Time, The Guardian
Keegan Connor Tracy – Once Upon a Time, Bates Motel, Battlestar Galactica, Final Destination 2
Tia Carrere – Wayne's World, Wayne's World 2, Relic Hunter, Curb Your Enthusiasm
J. August Richards – Angel, Conviction
Jeffrey Combs – Re-Animator, Star Trek: Deep Space Nine, Star Trek: Enterprise, Transformers Prime, The Avengers: Earth's Mightiest Heroes, Justice League Unlimited, The 4400, The Frighteners
Voice Actors
Rob Paulsen – Teenage Mutant Ninja Turtles (1987), Teenage Mutant Ninja Turtles (2012), Animaniacs, Pinky and the Brain, Biker Mice From Mars, Fairly OddParents, Ben 10, Ben 10: Alien Force, Ben 10: Ultimate Alien, The Transformers, Lego Batman 2: DC Superheroes
Debi Derryberry – Monster High, Jimmy Neutron, The Lorax, Ice Age 2
Roger Bumpass – SpongeBob SquarePants, Invader ZIM
Bill Farmer – Disney legend that voiced numerous characters including Goofy. Credits include: Mickey Mouse Clubhouse; Robot Chicken; A Goofy Movie; An Extremely Goofy Movie; Toy Story; Space Jam; The Lorax, Cars; Destroy All Humans! (video game); Horton Hears a Who!; Son of the Mask, Monsters, Inc.; A Bug's Life
Erin Fitzgerald – Monster High; Bleach; Naruto: Shippuden; Ranma 1/2; Battle Royale; Wild Grinders; Ed, Edd n Eddy
Comic & Publishing Guests
Paul Abstruse – The Cyst, Witch King, The Big Burlesque Variety Show, Zombie Cities
Nicola Scott – DC titles Birds of Prey, Secret Six, Teen Titans, JSA (Justice Society of America)
Paul Mason – The Soldier Legacy
David Yardin – Marvel titles X-Factor, Astonishing X-Men, Storm, District X; DC titles Joker's Asylum: Killer Croc, Wonder Woman Secret Files; Image Comics' Aria and Wicked
Jon Sommariva – Go Boy 7 (Dark Horse), Gemini (Image Comics), Free Realms (Wildstorm/DC)
Jason Palmer – Illustrator best known for his work on Firefly and Serenity
Tristan Jones – Ghostbusters (IDW), Tales of the Teenage Mutant Ninja Turtles (Mirage Studios), Infestation: Teenage Mutant Turtles (IDW)
Dean Rankine – Simpsons Comics' The Adventures of Itchy and Scratchy, Spider-Pig, Milhouse and the Gang
Phil Jimenez – DC's Wonder Woman, Infinite Crisis, Adventure Crisis
Colin Wilson – Star Wars (IDW), The Losers (DC), Gears of War (Wildstorm/DC), 2000AD
Bobby .N – Gestalt Publishing's Digested, Flinch, Witheld
Tom Taylor – The Deep: Here Be Dragons, The Example, Rombies, Star Wars: Bobba Fett is Dead (Dark Horse), Darth Maul: Death Sentence (Dark Horse), Rocketeer Adventures (IDW), Star Wars: Invasion (Dark Horse), The Authority (Wildstorm/DC), Rose and Thron (DC), Injustice: Gods Among Us (DC)
Queenie Chan – The Dreaming (TOKYOPOP), In Odd We Trust, Odd Is On Our Side, House of Odd, The Boy's Book of Positive Quotations
Andrew Constant – Torn, Broken Line
Justin Randall – 30 Days of Night (IDW), Eben & Stella (IDW), Silent Hill (IDW), Changing Ways (Gestalt)
Stewart McKenny – Super Friends (DC), Star Wars: Clone Wars Adventures (Dark Horse), Captain America (Marvel), Star Wars Tales (Dark Horse)
Wolfgang Bylsma – Gestalt Publishing
Freddie E Williams II – DC titles JSA Allstars, Robin Origin, Captain Atom
Tom Raney – Marvel's Alpha Flight, Ultimate X-Men, Annihilation: Conquest, Black Widow: Deadly Origin, Civil War: The Return, Secret Invasion: Inhumans, Avengers Academy, Thor, Uncanny X-Men, Dark Reign: Hawkeye; DC Comics' Outsiders; Image Comics' DV8, Stormwatch
Christian Read – Witch King, The Watch, The Eldritch Kid: Hate and Wisky (Gestalt), Star Wars Tales (Dark Horse)
Ryan K Lindsay – Ghost Town (Action Lab Entertainment), Fatherhood (Challenger Comics), My Little Pony Micro Series: Rainbow Dash (IDW)
Dillon Naylor – Batrisha the Vampire, Rock 'n' Roll Fairies, Da 'n' Dill
Even more guests are to be confirmed over the coming months! Along with these appearances, Oz Comic-Con Melbourne will feature exclusive film screenings, exhibitors and retailers selling rare collectibles, merchandise, comics, anime, gaming demos and cosplay competitions.
The event will be held at the Royal Exhibition Building – 9 Nicholson St, Carlton and is on July 6- July 7 from 9am-6pm, both days.
Oz Comic-Con 2013 was earlier held this year in March in Perth and Adelaide, and is brought to Australia by DCA Enterprises. Tickets are available to purchase from Ticketmaster.
For more info visit www.ozcomiccon.com.