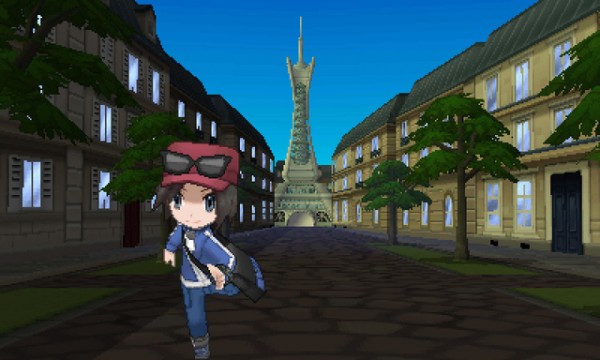 The latest issue of CoroCoro magazine, which is due for release on May 19, has revealed four new Pokemon as well as a bunch of details for the upcoming Pokemon X and Y games.
We now have confirmation of the name of the region that Pokemon X and Y will be set within. The region will be named Karos in the Japanese release. Miare City is the central city in the Karos region and features a structure similar to the Eiffel Tower (pictured above).
The game is also the first in the Pokemon series to feature multi-racial protagonists. What this means is that you can customize your character to be either: light skinned with light hair, light skinned with dark hair or dark skinned with dark hair. The scan below features both protagonists in their multiple forms.
Several new Pokemon were also revealed for Pokemon X and Y. The four new Pokemon revealed are each a different type, one flying, one fighting, one electric and one grass. Here is what we know about them thus far:
Yancham – Fighting-type Pokemon that looks like a baby Panda.
Yayakoma – Normal/flying-type Pokemon that is based upon a Ryukyu Robin.
Elicitel –  Electric/normal-type Pokemon that is Lizard-like in appearance.
Gogoat: –  Grass-type Pokemon that resembles a Mountain Goat.
You can see each Pokemon in the scan below:
Not only did the magazine reveal new Pokemon and details of the region but also some new features coming to Pokemon X and Y. One of the new features is the 'Ride' ability that some Pokemon have which allows the player to mount the Pokemon and ride them similar to a bicycle in previous games. Not only that but the Pokedex in these games resembles an iPad. You can see these new features, including a player riding upon the back of Gogoat, in the scan below.
Pokemon X and Y are slated to release world-wide October 2013 for the Nintendo 3DS console. Stay tuned for more information on the Pokemon X and Y games as it surfaces.
Source: Serebii