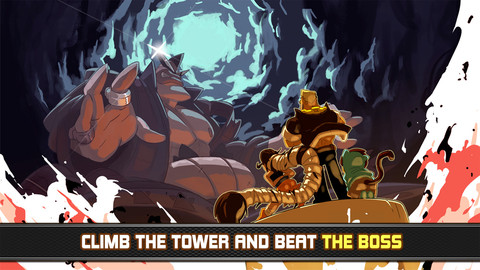 Welcome back for this week's iOS Game Suggestions. If you missed last week's, or are new to the suggestions, click on the link below and check out what cool games you should be picking up for your iOS device along with the introduction on how the suggestions work. (suggestions 1 has how it all works)
MasterAbbott's iOS Game Suggestions
A great week on iTunes! As always, it started slow and but ended with a bang! There are many must-buy games this week in all departments, FREE, 99c and over 99c. This week I've suggested a total of 22 great quality titles. Make sure you check them all especially… Combo Crew, Mighty Dungeons, Poker Nights 2, Quell Memento, Telltales Poker Night 2, Zombie Fish Tank, Tetris Blitz, GB Video Game Quiz, Epic  just to name a few.
Break down below :
9 – FREE Games
8 – $0.99c Games
5 – Over $0.99c Games
As always for this week's suggestions are all new titles that you should take a look at and consider spending your hard earned iTunes cash / time on.  Well the Free games just below certainly should all be given a shot as they won't cost you anything!
For The Cheapskates – FREE GAMES
 

MASTERABBOTT'S FREE GAME PICK OF THE WEEK!

Tetris Blitz – Price : FREE – Publisher –EA Mobile (Race against the clock in a two-minute blitz to clear lines and rack up as many points as possible before time runs out! With all-new features, stunning visuals, and innovative controls, this twist on the world-famous puzzle game is a must-have on mobile.) runs on iPad & iPhone. GET IT NOW FOR FREE

 

Epic – Price : FREE – Publisher – Gameloft (Discover a hidden world unlike any other in the official game inspired by the 3D animated action-adventure movie! EPIC comes to theatres near you on May 24 (U.S.)! Epic™ is free to download and play. You can open up bonus content for even more fun by purchasing premium currency. Premium currency costs real money. From the creators of ICE AGE and RIO, EPIC tells the story of an ongoing battle between the forces of good, who keep the natural world alive, and the forces of evil, who wish to destroy the life force of the forest.) on iPad & iPhone. GET IT NOW FOR FREE

 
GB Video Games Quiz – Price : FREE – Publisher –

Undercoders

 (How many GameBoy video games can you name?Find it out in the new GameBoy-exclusive version of Video Games Quiz with all of its 8-bit 4-gray-color-palette glory! Write the name of the pictured game to clear a level. Do it as fast as you can and earn high scores and Video Games Quiz coins! Stuck in a game you can't name? Use the coins to get valuable hints or ask your friends to aid you via Twitter or Facebook.

) runs on iPad & iPhone.

GET IT NOW FOR FREE

 
Dead Ahead – Price : FREE – Publisher –

Chillingo

 (From the creators of Parking Mania comes a game with a little more bite! The Dead are coming for you, it's time to find a ride and drive for your life. With the relentless zombie hordes hot on your heels and hungry for flesh, can you fend them off whilst keeping your eyes on the road?

) runs on iPad & iPhone.

GET IT NOW FOR FREE

 
Jane Wilde – Price : FREE – Publisher –

Level Bit

 (Get on board with this awesome Wild West pick-up-and-play shooter! This is an all new side scrolling shooter game where your mission is to stay alive while killing as many undead creatures as possible. To aid in your quest you have five upgradable weapons, including: revolvers, shotgun, gatling gun, a "Freeze" bow and the all-powerful fishgun! Additionally, you have seven quirky, yet effective powerups to help you survive any sticky situations.

) runs on iPad & iPhone.

GET IT NOW FOR FREE

 

ShowStopper Basketball – Price : FREE – Publisher – Mobage (ShowStopper Basketball is specifically optimized for the iPhone 4 (and later), iPad 2 (and later) and iPod Touch 5th generation (and later). Collect, Power-up, Play, and Dominate. Total control of the court is in your hands and all eyes are on you in ShowStopper Basketball. Set your team up to play aggressive defense, drive down the lane for a monster dunk, pass the rock, or step back for a three pointer… YOU call the shots!) on iPad & iPhone. GET IT NOW FOR FREE

 
Greedy Grub – Price : FREE – Publisher –

PIXOWL

 (Play the role of a newborn grub that embarks on the job of a lifetime: Assistant Mayor of a magical Forest! Guide Grub through a series of engaging episodes and help him unravel the Forest's mysteries. Along the way, a cast of quirky, memorable characters are ready and waiting to lend you a hand!

) runs on iPad & iPhone.

GET IT NOW FOR FREE

 

Outworded – Price : FREE – Publisher – Backflip Studios (Your search for the world's best word search game is officially over. Introducing (drum roll, please)… Outworded™ by Backflip Studios, the makers of Paper Toss, NinJump, DragonVale & other mega-hit games. Featuring both single player & multiplayer modes, a clean, minimalist design, a slick, easy to use interface, and an endless number of increasingly challenging puzzles, Outworded really has it all.) on iPhone & iPad. GET IT NOW FOR FREE

 

Battlestone – Price : FREE – Publisher – Zynga (Swipe out Evil! Create a powerful team in this beautiful arcade action game. Collect dozens of unique fighters to drive back the evil of The Void and control the mighty forces trapped in the Battlestones. With the swipe of your finger you can deliver over-the-top attack combinations to fend off hordes of enemies. Discover and train your squad of heroes and seamlessly swap them in battle to use all of their special powers to defeat evil.) on iPhone & iPad. GET IT NOW FOR FREE
For The Bargain Hunters – 99c Games
 

Pirates vs Corsairs Davy Jones' Gold – Price : $0.99 – Publisher – Microids (Davy Jones' gold has been lying at the bottom of the sea for years… it's time to bring it to the surface! The pirates have embarked on a treasure hunt, and the corsairs have embarked on a pirate hunt. Things won't end well! Davy Jones' gold surfaces on its own, throwing the pirate-infested waters into turmoil. Capture, pillage, rob and crush your opponents in this naval strategy game.Play alone or with multiple players. All aboard!) runs on iPhone & iPad. BUY NOW

 

Zombie Fish Tank – Price : $0.99 – Publisher – Chillingo (Underwater, no one can hear you scream! Scientists took away your love, your freedom, and after many experiments, your life. Back from the dead with a taste for revenge, snack your way up the food chain, taking on the laboratory's terrifying creations and monstrosities.) runs on iPad & iPhone. BUY NOW

Redline Rush – Price : $0.99 – Publisher – Dog Byte Games (From the creators of Offroad Legends, the next generation of endless racers is here! Jump into a super sports car and test your driving skills in this high speed driving game where you have to weave through traffic to escape the police. Avoid crashes, take down traffic cars, pick up power-ups and walk to the top of the leaderboard! This game will challenge even the most skilled arcade racing fans.) runs on iPhone & iPad. BUY NOW

 

Rebirth Of Fortune 2 – Price : $0.99 – Publisher – Dotomchi (Rebirth of Fortune 2, is the 4th story of the Fortune Chronicle Episode and the official sequel to the 2009 release of SRPG Rebirth of Fortune. Newly revived with a more extensive volume, cool improved graphics, and utterly more unstoppable fun than the original. As the story continues from Rebirth of Fortune, Sorcerer of Fortune, Defense of Fortune, experience a highly interesting storyline, full of Fortune world's Magic and Ether.) runs on iPhone & iPad. BUY NOW

 
Ninja Wrath – Price : $0.99 – Publisher –

JINHO LEE

 (True Arcade Action on the go! ▪ Real ninjas slice bodies, not fruit! Use real arcade controls to become a deadly force of lightning-fast attacks! Pulverize anything that gets in your way with powerful combos and ninja skills!) runs on iPhone & iPad.

BUY NOW

 

Can Knockdown 3 – Price : $0.99 – Publisher – Infinite Dreams (Challenge your aim, hone your precision, and push your puzzle-solving skills to the next level in this insanely addictive game. This installment takes the critically acclaimed Can Knockdown series to all new heights- the physics-based carnival gameplay you know and love- and adds unique puzzles, adrenaline-charged challenges, and even more explosive action!) runs on iPhone & iPad. BUY NOW 

 
Bam fu  – Price : $0.99 – Publisher –

Game Oven

 (HANDS CLASH IN CHAOS in Bam fu, a game for two-, three- or four people on one device. Everyone is fighting over the same pebbles. Physical contact is totally part of this game. Each player fights for her own color. Pebbles loop through the colors of the players when you tap them. Make the majority of the pebbles your color and win the round. Win five rounds and you've secured your victory.) runs on iPhone & iPad.

BUY NOW

 
Stickman Tennis  – Price : $0.99 – Publisher –

Robert Szeleney

 (Stickman Tennis is a fast paced realistic tennis game on spectacular courts and an astonishing atmosphere, simple controls and tons of replay value. Play top spins, slices, lobs and smashes, play cross, longline or inside-out and choose between automatic and manual running. The revolutionary time machine will let you replay a point you lost, to give you a second chance. Play a quick game or complete tour season of Tennis against 100 different opponents. Collect trophies and improve your world rank in a complete season with 64 tournaments.) runs on iPhone & iPad.

BUY NOW
For The Millionaires – All games over $0.99
 

MasterAbbott's over 99c Pick Of The Week!

Combo Crew – Price : $1.99  – Publisher – The Game Bakers (In a world where a fist to the face is a perfectly viable solution, Mr. Boss has it all. Now he wants to break the greatest fighters ever! Trapped in his giant tower, you must fight your way to the top to take him down! Inspired by classics like Streets of Rage, Final Fight, and Street Fighter, Combo Crew is pure rumble with no virtual buttons to mess up your moves.) runs on iPhone & iPad. BUY NOW

 

Poker Night 2  – Price : $4.99  – Publisher – Telltale Games (The chips are down and the ante is up in this sentence already bursting with poker clichés! Take the fifth seat in Poker Night 2 and go all in at a table featuring Claptrap (Borderlands 2), Brock Samson (The Venture Bros.), Ash (Army of Darkness) and Sam (Sam and Max series). Your dealer is GLaDOS (Portal series), but at no point will you be considered as a candidate for a visit to Aperture Science's Enrichment Center. Unless you lose.) runs on iPhone & iPad. BUY NOW

 
Quell Memento – Price : $5.49 – Publisher –

Bulkypix Games

 (Forget the world. Fall in love with this enchanting zen puzzler. Set within an old abandoned house, the player restores order to the jumbled memories of the last occupant, and in doing so embarks on a haunting journey of self-discovery and reflection.

) runs on iPad.

BUY NOW

 
Mighty Dungeons – Price : $1.99 – Publisher –

Crescent Moon Games

 (Developed by Laylio Games, players can enjoy this fan-made dungeon crawler crossover between old-school board games like Heroquest, Warhammer Quests, and famous oldies like Diablo I and Dungeon Master. Mighty Dungeons looks awesome on your iPhone and purely awesome on your tablet. Wander evil-packed dungeons and battle golems, demons, and other soul-less creatures as you play through 3 campaigns with 6 heroes. You will be equipped with a plethora of weapons, armors, potions, and magic spells – all at your very own disposal.) runs iPad & iPhone. BUY NOW
 

Murder Files – Price : $5.49  – Publisher – Relentless Software (As one of the detectives from the infamous Blue Toad Agency you arrive in the quaint village of Little Riddle for a well-earned break. But there is murder and mystery afoot. Eliminate suspects, get witness evidence and solve the puzzles to discover Whodunnit. Who is the mysterious murderer?) runs on iPhone & iPad. BUY NOW
There you have it folks these games should keep you busy for quite some time well until next week at least. I'll be back next week for another dose of iOS goodness, in the meantime if you would also like to suggest your own suggestions, please feel free to share them in the comments section below or in the iOS forum section on the site here.
Remember kids, Play Hard Or Don't Play At All!