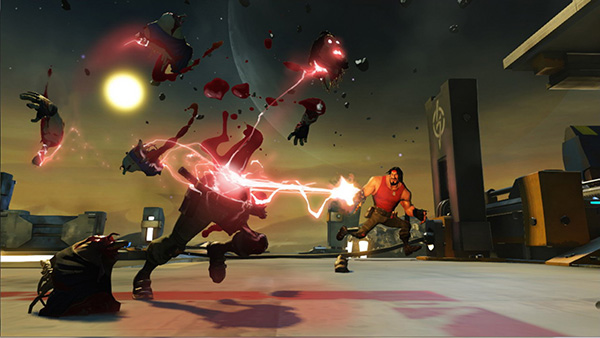 Edge of Reality's crazy new PC shooter, Loadout, is now available on Steam through its Early Access program. The game promises "a breath of fresh air in an overpopulated world of shooters" with its 44 billion (!) weapon combinations and cartoony yet pretty aesthetics.
There are three bundled packages to choose from on Steam. Loadout will "eventually" be free-to-play, but there are several incentives to pitch in now and get started right away.
The Pain Bringer Pack ($19.99)
This version includes immediate Early Access plus the full release. You'll also get 16,000 Spacebux, seven days of XP boost, a standard Grenade Launcher, a Healing Pulse rifle, a Tesla Shotgun, and a clothing-pack with 6 items to deck out your character's appearance.
The Absolute Badass Pack ($39.99)
Includes everything in The Pain Bringer Pack, plus 19,000 extra Spacebux (that's 35,000 total), all Tier-1 weapon parts, an extra seven days of XP boost (14 days total), a special Grenade Belt & SpaceDome helmet, and a special Elite Badge that's assigned to your gamertag which will show the world you helped make Loadout a badass game.
The Founder's Pack ($89.99)
A Steam Early Access Exclusive! Name one of Edge of Reality's enemy AI bots and leave your lasting personal mark on Loadout forever. People playing Loadout around the world will see your chosen bot name in-game, commemorating the greatness of you or a loved one for the life of the game. You'll also get everything from The Absolute Badass Pack, 25,000 extra Spacebux (60,000 total), and a full 21 days of XP boost. Last, but not least: Edge of Reality's undying love.
Loadout is currently in beta and will be released for Mac and PC in the near future. Check out the game's webpage here and follow its Facebook and Twitter pages for more info.