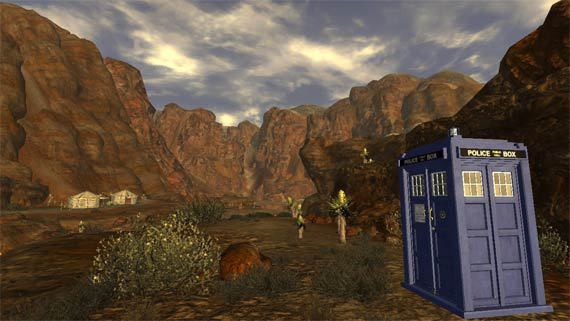 There's now a new reason to return to the wasteland, as a new "Doctor Who" themed mod has been released. Fallout: Who Vegas, from modders Demeggy and Spyduck, is looking to bring everything you love from the long-running series into the Mojave Wasteland in the first of three "Waves".
This installment brings several new features to the table including the shows resident tool for any spot, the Sonic Screwdriver. But that is definitely not all fellow wanderers as the iconic TARDIS is along for the journey. Not a click-and-go affair, it requires fleet fingers as you race around the console piloting it through the vortex, but miss a step and you might find yourself with a broken ship. There is a short quest to go along with discovering the TARDIS to familiarize the player with the new surroundings and the function of everything. And for players not willing to raise their karma levels, hidden is the Master's Laser Screwdriver to deal damage with similar functions to the Doctor's tool, with a few extra surprises.
With Wave two being worked on, this looks to be a very expansive mod for an already massive game. Additional information can be found at the mods official blog, and don't forget to check out our review of Fallout: New Vegas.