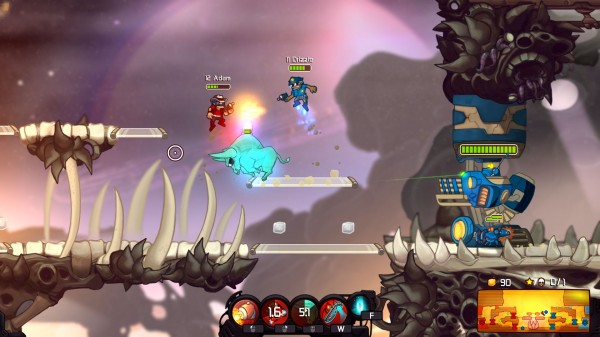 Awesomenauts landed on consoles worldwide a year ago, and since then over a dozen updates have been released, adding items, skins, characters and recently even a new map!
The game launched with a roster of 6 galactic mercenaries, which has now doubled to 13 today. Additionally, a lot of balance adjustments have been made over time, always with the help of the community's feedback. To celebrate, Ronimo Games have released a new video, showing the progress the game has made since it's inception. It contains some never before seen footage of the game during various states of development and moves through all updates ending in the latest, 1.17, containing the new map. You can check out the video embedded at the bottom of this article.
And there's still much more coming in the following months! Besides the multiple new characters getting geared up for future updates – one of them being Admiral Swiggins, the winning character of the design-your-Awesomenaut contest – update 1.18 is currently being put through its paces in beta. It contains another balance overhaul and the first premium skin, Leon Pirate! This is a new type of skin that also completely replaces the audio for the character. You can check his video out directly below. Enjoy!
Awesomenauts – Leon Pirate Skin Showcase