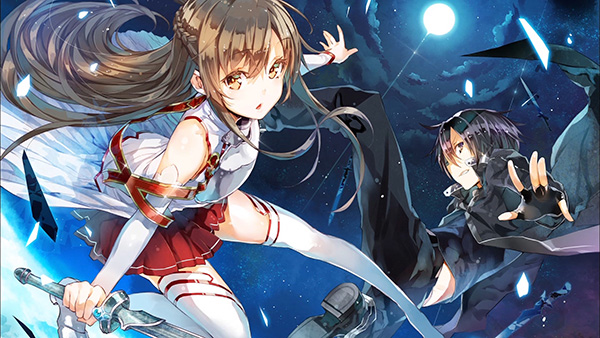 Aniplex of America have just announced that Sword Art Online will air on Adult Swim's Toonami program this August. With the announcement coming from the Anime Boston convention, Aniplex has also detailed the home release of SAO on Blu-ray and DVD.
Those wanting to pick up Sword Art Online will get four limited-edition Blu-ray sets or standard DVD sets. They will be consecutively released on August 13, September 17, October 15 and November 19, the first of which is available to pre-order now.
The first set will  contain episodes 1-7 and runs for 175min. As expected of an Aniplex release, the Blu-ray limited edition will get a whole heap of extras:
Original Soundtrack CD1
16-page Deluxe Booklet
Illustration Pin-ups
Exclusive Collectible Card
Rigid Box illustrated by abec (Original Character Design)
Clear BD Cases with 2-sided Japanese Cover Design
Audio Commentary by Creators
and Japanese Cast
Special Animation "Sword Art Offline" (English subtitles)
Original Web Previews
Trailer
1st Season Textless Opening
While the DVD version is looking much slimmer:
Mini Pin-up Poster
O-Sleeve
Clear 3-disc DVD Cases with 2-sided wrap
Trailer
1st Season Textless Opening
Each of the four Blu-ray boxes are $112.98 each but, as usual, the store price is cheaper at $89.98. The DVD sets will go for a much cheaper $49.98 with a store price of $39.98. Both English and Japanese dubs are included with these releases.
Sword Art Online is currently streaming for free on Japan's new international anime service, DAISUKI.