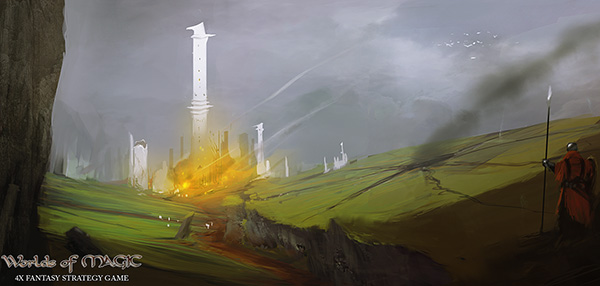 Worlds of Magic, a crowd-funded 4X strategy game from Polish developer Wastelands Interactive, has passed its £30,000 goal with now just three days to go. To make the most of the time left, they are now accepting pledges via PayPal on their site if backers wish to pay using a different method.
The Kickstarter project and Steam Greenlight title is currently on £35,881 and promises to add an extra 20 roaming creatures if it reaches £40,000, Linux and Mac versions pushed ahead for January 2014 at £45,000 (still to be released July that year otherwise) and the extra 8th and 9th factions at £50,000.
Inspired by MicroProse's Master of Magic, Worlds of Magic is promising to revitalise the fantasy 4X genre (explore, expand, exploit and exterminate) with classic D20 combat mechanics, tactical battles, 10 Sorcerer Lords, 80 units, 300 spells, 7 "planes of existence" and even a unique take on the Undead race in a strategy game – no need to pay for food or taxes.
Worlds of Magic boasts no DRM and will be available for PC in January 2014, Mac and Linux in July with iOS and Android set to follow in December that year.
Wastelands Interactive is an independent game developer founded in 2006 and based in Poland, focusing on strategy and tactical war games. Visit the game's site here for more info, or follow it on its Twitter and Facebook pages to keep up with their success.