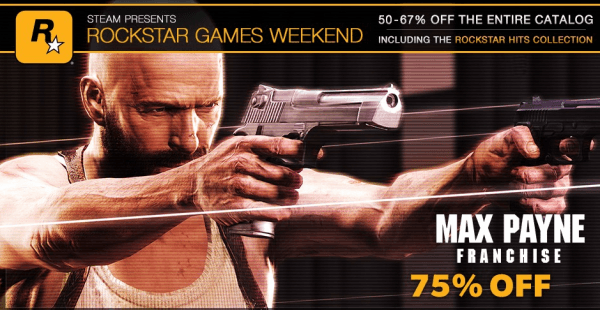 Did you know that hurricanes that were really destructive get their name retired? Alright, onto the sales!
Steam is running a large Rockstar Games Weekend. All Rockstar titles are 50 to 65% off with a different franchise on sale for 75% every day. As of this writing, Max Payne is the current franchise on sale. I highly recommend playing the series from the beginning. It is one of the classic games that perfected the bullet time effect in a video game. Brutal Legend is 50% off this weekend. The game is a good action strategy game and with an all star cast that includes rock legend Ozzy Osbourne and actor Jack Black. Defense Grid: The Awakening is 75% off this weekend. It is a solid tower defense game with a decent set of map packs. Portal fans should check out the You Monster! DLC that stars GLaDOS.
A free weekend and a 75% off sale for the game Forge is currently running. Forge mixes MMORPG style PVP combat with FPS sensibilities. For those who were lucky enough to snag a 75% off coupon at Raptr Rewards can stack the coupon with the sale for added savings. Dino D-Day is also running a free weekend and 75% off sale. The team and class based FPS pits Nazi dinosaurs against the WW2 Allied forces. Finally, Primal Fears, Still Life, Still Life 2, Post Mortem, Perimeter 2: New Earth, Zombie Pirates, Resonance, Mutant Blobs Attack!!!, Construct 2, and Postal 2 Complete are this week's Weeklong deals.
Greenman Gaming has a huge list of games on sale this week. They have marked down complete packs of games by up to 75% off. My recommendations are the Borderlands Pack, the Tropico 4 Collector's Bundle, the Sleeping Dogs Pack, and either the Total War Grand Master Collection or the smaller Total War Master Collection.
GMG still has their full line of Weekend Hot Deals still. Recommended titles include the EVE Online: Starter Pack for those looking for a hard core spaceship based MMORPG  and Hitman: Absolution. Tomb Raider is the weekend deal and has been marked down to 50% off and can be used with Greenman Gaming's legendary 20% off coupon, GMG20-GGN5D-FC3NA. This is one of the cheapest prices for Tomb Raider. If you need convincing, read our review of Tomb Raider.
Square Enix's online store has knocked down their games to 75% off. If you aren't ready to take the plunge and buy all the Sleeping Dogs DLC, the base game is 75% off. Other titles of note include Deus Ex: Human Revolution, Dead Island, and Battlestations: Pacific.
Get Games has their Get Loaded sale this weekend. Buyers can pick two games for $24.00 each. Most of the titles can be bought separately for a much cheaper price. I would recommend waiting for better sales for all the games except Sleeping Dogs and Hitman. Both games are much cheaper at Greenman Gaming. They are also running a shooters sale that is knocking down the prices of many titles in the genre. I strongly recommend picking up Farcry 3 as 40% off is one of the cheapest prices available. I absolutely love the game and even selected it as my pick for 2012's game of the year. Get Games also has the Batman: Arkham series of games and the Anno 2070 games for 50% off. Both games have been spotted for lower games, so extremely frugal gamers are better off waiting. For the masochistic, Get Games has Aliens: Colonial Marines for 66% off. This is the cheapest price since release, but be sure to read our review before purchasing.
GamersGate is running a Spring Sale, with big daily deals. I recommend checking out the Overlord Complete pack if you are looking for a humorous action game.  Aliens: Colonial Marines is also on sale for 66% off. The hit indie game The Cave is at its lowest every price at 66% off right now. Fallen Enchantress is 50% off this weekend, however the game has gone down to 66% off on the rare occasion.