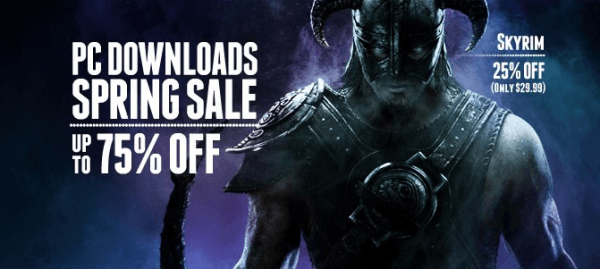 Spring is finally here! 'Nuff said.
Greenman Gaming are running three separate sales this weekend. First up is the Zombie Week sale that knocks down zombie based titles by up to 75% off. I highly recommend picking up Dead Island: Game of the Year Edition for those looking for an excellent melee based FPS. I personally have dumped hours into this game on both Xbox 360 and PC and don't regret any of it. Greenman Gaming is also running an excellent pre-order promotion for Dead Island Riptide. Buyers will get Dead Island Riptide, the Survivor Pack DLC and a copy of Risen. Be sure to read our preview of Dead Island Riptide.
The Grand Theft Auto Series is headlining Greenman Gaming's Weekend Hot Deals. Grand Theft Auto III, San Andreas, Grand Theft Auto IV, and GTA: Episodes from Liberty City are all on sale for 75% off. You definitely can't go wrong with any of the GTA titles on sale this weekend.
Finally, GMG has a variety of EA titles on sale for up to 75% off. All titles activate on EA's Origin service. I highly recommend checking out Burnout Paradise: The Ultimate Box for those looking for a solid arcade type driving game. RPG fans should not miss Dragon Age: Origin Ultimate Edition.
GOG.com is running a huge Telltale weekend sale. The Sam & Max series, Wallace & Gromit's Grand Adventures, Back to the Future: The Game, and Tales of Monkey Island are 85% off.
Steam has Portal 2 on sale for 75% off. The deal is pretty common, but Portal 2 is a fantastic game. It should be in every PC gamer's library. Steam is also running a Worms Revolution free weekend, with the title knocked down to 50% off. Finally, The Stronghold Collection, Chrome, CameraBag 2, Airline Tycoon 2, Razor 2: Hidden Skies, Test Drive Ferrari, Demolition Inc, SpellForce 2: Faith in Destiny, Bad Rats, Angelica Weaver: Catch Me When You Can, AI War Fleet Command, Tidalis, A Valley Without Wind 1&2, and Shattered Haven are on sale as Steam's Weeklong Deals.
Get Games has the Total War collections on sale this weekend. Those new to the Total War series should check out Shogun 2 as an excellent starting point to the series. HeadUp Games is also up to 75% off this weekend. Be sure to check out Trauma, an excellent adventure game that merges interesting storytelling with fantastic visuals. Finally, the Silent Hunter series is on sale for up to 75% off.
GamersGate has Dungeon and Dragons titles for 50 to 60% off this weekend. Be sure to check out the Neverwinter Nights series if you are looking for a good way to start on the series.
Finally, saving this week's biggest sale for last! Gamestop is running a fantastic Spring Sale. The most interesting item on sale is Skyrim's Dragonborn DLC is half off at $9.99. This is the best price for the DLC so far and should not be missed. Be sure to also check out L.A. Noire: The Complete Edition at 75% off if you are looking for an excellent open world game.