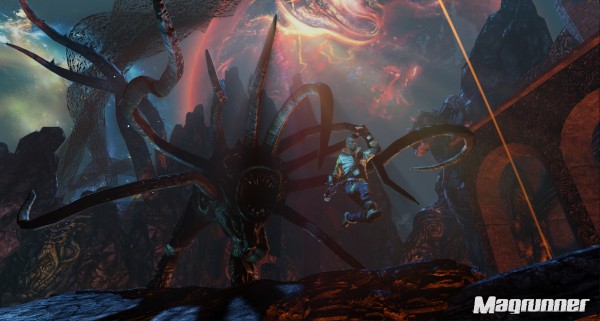 Magrunner is still coming along, so today developer 3AM Games and publisher Focus Home Interactive have released some more screenshots to show off just what kinds of things players can expect to encounter. From scientist NPCs, to sleek looking puzzles, to many-tentacled Cthulhu Mythos beasties, the main character Dax will have his hands full with people to see, solutions to find, and monsters to escape.
Being made using Unreal Engine 3, Magrunner will follow Dax from competing as part of a training program to trying to reach the end just to get back to the world and away from the horrors unleashed. The training program was designed to teach how to utilize the magnetic manipulation glove Dax can be seen wearing, which seems to be the main focus of gameplay.
Magrunner will be releasing for XBLA, PSN, and PC though no precise date has been announced just yet. However, those wanting to check out the 6 new screenshots can click on the images in the gallery below to see the full sized versions.