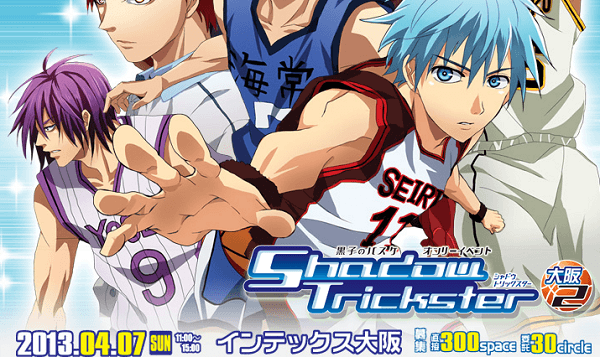 Since 2013 began, Kuroko's Basketball fans haven't had to deal with any issues regarding their favorite manga and anime series. However it seems that has come to an end as it has been announced that Studio You, the company that organizes the "Shadow Trickster" dōjinshi events in Japan will be cancelling the upcoming Kuroko's Basketball event in Osaka that was meant to be held on April 7th.
This is actually the second time an event being held in Osaka has been cancelled and once again it is for the same reason. The company received various threats to the event and after the company took into consideration the other events being held at the time and various businesses, they decided it would be best to cancel the event. The company did not say when the threats were received nor what was mentioned in the threats.
To take things further, the company also requested in their announcement that any circles that were planning on selling or giving away Kuroko's Basketball themed merchandise at the following events should either not appear or limit the amount of product they bring: Boku no Hero Osaka de Akushu! 5, Senya Ichiya Osaka 4, Idling Attacker Osaka 2, Golden West Dai-3 Bu, Love Song Lesson Osaka vol. 3, Yaso-Inaba Matsuri Osaka, Sanjūrokkei Osaka no Shō Ni, and Kimi to no Rendan Osaka.