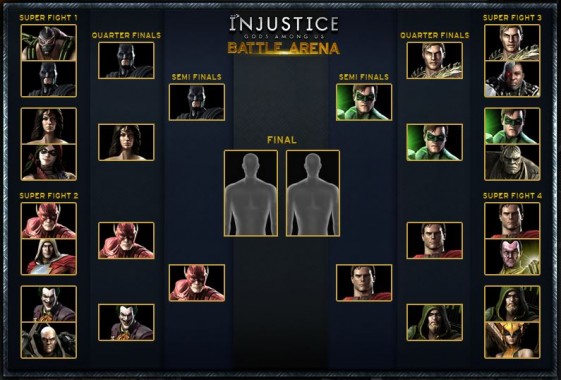 Voting for the semi-finals of the Injustice: Gods Among Us Battle Arena has opened. As you can see from the bracket above, Batman is facing The Flash while Green Lantern is squaring off against Superman. These fights are sure to garner some strong opinions, not the least of which are championed by a plethora of celebrities…
This week there are SIX new opinion videos online. They feature the likes of tournament regulars Wayne Brady, Tara Strong, Kevin Smith and Jason Mewes along with: Mr and Mrs Jason Priestly, comic icons Geoff Johns and Jim Lee, actors Scott Porter, Tim Jo and Jon Huertas and MMA legend Bas Rutten (always hilarious). Phew…that's a lot of debating to be had there.
You can watch their videos at the official Injustice YouTube channel or at injustice.dccomics.com, which is also where you can vote for the winners of this round. Below is the overview video that takes a look at the match-ups and summarises the aforementioned predictions of our experts. Let us know your own predictions and the logic behind them in the comments section.
P.S. Green Lantern has created simulated Kryptonite radiation to stop Superman in his tracks before…just sayin'.