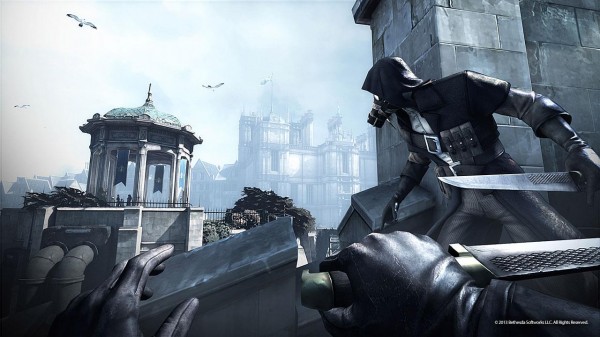 A single image has been released by Dishonored developers, Arkane Studios today for their new downloadable content, The 'Other Side of the Coin'. Players will either take on the role of one of the infamous Whalers or possibly even their leader, Daud himself. While little is known about the DLC currently, it has been confirmed by a trophy leak that this new story-based content will in fact place players on the other team.
The image above (click for a larger version), shows off what looks to be one of the very first scenes of the game, Corvo's meeting with the Empress, which as we all now know doesn't exactly go as planned. The Whalers have taken up a position of overwatch, looking ready to strike at a moments notice. Arkane Studios has not commented on the image other than to write "Soon", and that more details will become available later today.
Are you excited for this new story based DLC? If you haven't yet checked out the amazing Dishonored take a peak at our slightly favourable review here.