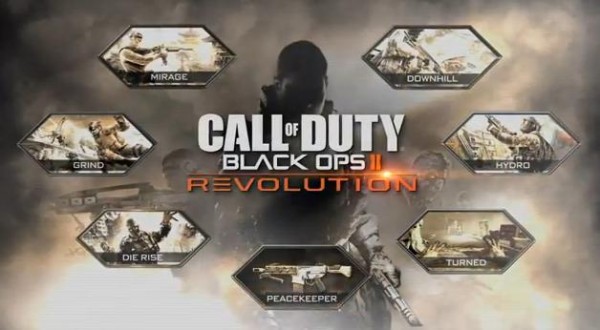 Black Ops II players that have been waiting for that latest map pack to the Playstation 3 and PC can breath easy, as Revolution has hit both platforms, offering four new multiplayer maps and much more.
The four new maps consist of the following:
-Hydro: Located in Pakistan, this hydro-electric plant comes complete with a lethal spillway that floods with very little warning.
-Grind: Set in a skate park in Venice Beach (the birthplace of skateboarding!), quarter-pipes and curved surfaces drive players away from easy cover and into intense firefights.
-Downhill: A ski resort in the French Alps, this snowy map is complete with a moving gondola system that can both offer cover and crush you to death.
-Mirage: Located in China's Gobi Desert, a luxury resort has been ravaged by a sandstorm.
Sound good? Well, that isn't all. Zombie lovers will also be getting their fix with Revolution, as this duo of maps will add plenty more for the undead to croak at.
Details for the new zombie content can be read below.
Zombies fans get a terrifying double-dose of undead action in Revolution. First,the new map, "Die Rise," drops players inside a maze of crumbling skyscrapers amidst a ravaged Chinese city, where all-new Wonder Weaponry will play a crucial role as they make a valiant stand against the impending zombie hoard. Additionally, Revolution's new Zombies mode, "Turned," flips this new fan-favorite mode around, allowing players to become the undead and play as a zombie, offering an entirely new style of bragging rights.
As you all probably know, you can purchase this pack for $14.99, or just simply go download Revolution if you are already a Season Pass holder (which can still be purchased for $49.99 – bonus content included). Check out the new trailer below, and turn on that PS3 or PC and get to downloading if you are wanting to add some new life to your Call of Duty.