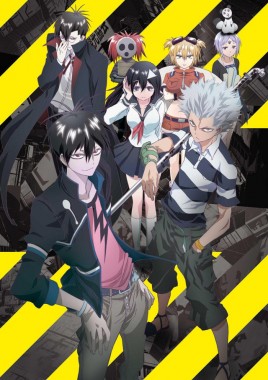 Ever thought to yourself that there isn't enough anime about otaku vampires, sexy ghost girls, steel pipe wielding werewolves and three eyed cafe proprietors? Well the wait is over! The upcoming adaptation of Yuki Kodama's horror battle manga Blood Lad is all that and more.
New details have come to light on the Blood Lad anime series which looks to be a graveyard smash.
A brand new visual for the anime has been revealed which can be seen to the right. It features the main cast of the series with series protagonist Staz in the foreground.
The series follows Staz, a vampire otaku with a particular obsession with humans, as he falls in love with the ghost of a human girl named Fuyumi who now wanders the Demon World.
He makes the promise that he will help Fuyumi regain life and return to the Human World on the condition that he comes with her.
Also confirmed was the series staff at Brains Base studios. The following people will comprise the main staff working on the series:
Director: Miya Shigeyuki
Series Composition: Takeshi Konuta
Character Design & Chief Animation Director: Kenji Fujisaki
Prop Design: Yoshinari Saito
Art Director & Setting: Toshiyuki Sakae  at Art Team Convoy
Color Design: Sakiko Ito
Director of Photography: Shinichiro Tate
Editing: Yasutaka Ikeda
Sound Director: Satoki Iida
Music: Yuuki Hayashi
Music Production: Flying Dog
Animation Production: Brains Base
The Blood Lad manga began serialization in Young Ace magazine in 2009 and continues to be ongoing as of posting. The manga has been licensed and release in English by Yen Press.
At this point in time none of the cast has been confirmed. Casting details are sure to come to light as the series premiere approaches in the coming months. At this point however no solid premiere date has been set. Instead Blood Lad  is tentatively set for a vague '2013' release date. Until then we can all do the monster mash, because I just can't stop referencing that monstrosity of a song no matter how hard I try. It just catches on in a flash, that monster mash.