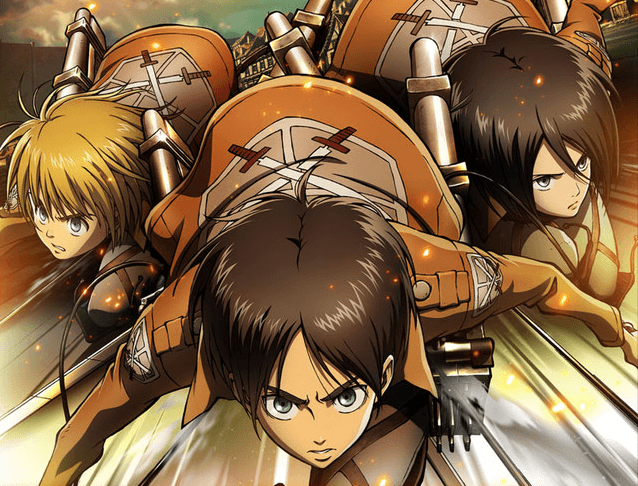 Ahead of the premiere of Production I.G.'s adaptation of popular manga series Attack on Titan they have confirmed a plethora of details for the anime, specifically details regarding the cast and staff working on the series.
The cast for the Attack on Titan anime is as follows:
Marina Inoue as Armin
Yui Ishikawa as Mikasa
Yuuki Kaji as Eren
Hiro Shimono as Conny
Kishô Taniyama as Jean
Ryota Ohsaka as Marco
Shiori Mikami as Christa
Yu Kobayashi as Sasha
Yu Shimamura as Annie
Yoshimasa Hosoya as Reiner
Tomohisa Hashizume as Bertholt
Saki Fujita as Ymir
Keiji Fujiwara as Hannet
The staff working on the series has been confirmed as:
Director: Tetsuro Araki
Series Composition: Yasuko Kobayashi
Character Design: Kyoji Asano
Assistant Directors: Hiroyuki Tanaka, Masashi Hizuka
Chief Animation Directors: Kyoji Asano, Satoshi Kadowaki
Action Animation Directors: Yasuyuki Ebara, Arifumi Imai
Art Director: Shunichiro Yoshihara
Art Setting: Yuuho Taniuchi
Giant Design: Takaaki Chiba
Prop Design: Masashi Hizuka
Colour Design: Ken Hashimoto
3D Director: Shuhei Yabuta
Director of Photography: Kazuhiro Yamada
Editing: Aya Hida
Sound Director: Masafumi Mima
Music: Hiroyuki Sawano
Sound Effects: Shizuo Kurahashi
Sound Production: Techno Sound
Animation Production: Wit Studio
Production Assistance: Production I.G.
What do you think of the casting and staffing choices for the Attack on Titan anime series? Let us know what you think of all this in the comments section below.
Source: Crunchyroll