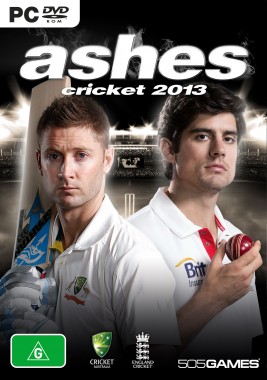 505 games announced the latest installment of their Ashes Cricket series today. Ashes Cricket 2013 will be available on Xbox 360, PlayStation 3, Wii U, and PC. The game features a new game engine that adds several new features. Weather and slowly deteriorating pitch conditions will all play a major factor in game strategy. Batsmen will no have complete control over shot timing and bowlers have a new set of tools to handle batsmen. Players will be able to either set the field themselves or have the computer handle field placement.
The official Australian and English teams are available to play in the complete Ashes Series. Additionally there are shorter tournaments and leagues available for play. "We are delighted to be able to announce some of the key features for Ashes Cricket 2013," commented Ralph Pitt-Stanley, General Manager for UK & Export at 505 Games. "This game has been created with real cricket fans and players in mind. The new engine allows players to mimic a cricketers most important attribute, his technique."'
Ashes Cricket 2013 will be available on June 21st, 2013. For more information, check out the official Ashes Cricket 2013 site here.