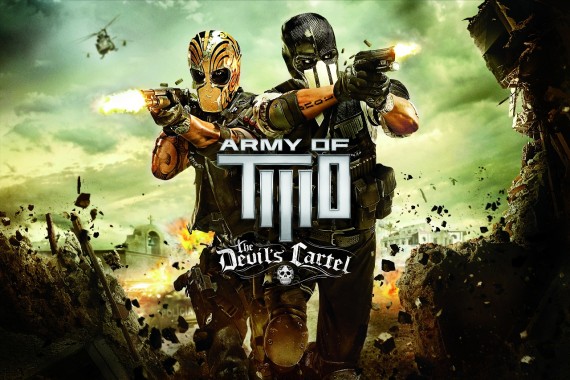 EA have announced an early chance to play as Alpha and Bravo – in the form of a co-op demo –  before the fast-approaching release of Army of Two: the Devil's Cartel on March 28th.
Army of Two has been one of the few AAA, blockbuster series of games whose gameplay is focused and built around the concept of co-operative play. And come March 12th via the Xbox Live Marketplace, and March 13th via the PlayStation Network, we will be able to download the demo and "step into the boots of private military contractors Alpha and Bravo as they embark on a mission to rescue a kidnapped politician while diffusing an additional hostage situation."
This particular mission will have the duo fight their way through a dangerous drug lab to the rooftops of a sky rise. This cartel stronghold houses hordes of kamikaze cartel members, and with the lives of civilians at risk, the team will have to split up with one player running  into battle as the other man's a helicopter's stationed mini-gun to provide cover. With the implementation of the brand new Overkill feature, complete and utter destruction is a given.
So, check out the Army of Two: the Devil's Cartel co-op demo available March 12th and March 13th for the Xbox 360 and PS3 respectively.