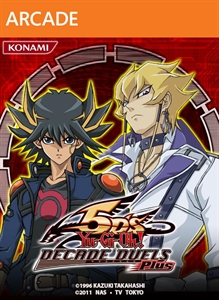 Konami have announced that they have just launched the must-have Yu-Gi-Oh! gaming experience Yu-Gi-Oh! 5D's Decade Duels Plus on the Xbox Live Arcade Marketplace and the PlayStation Network Store.
Yu-Gi-Oh! 5D's Decade Duels Plus was previously released on the Xbox 360 under the title Yu-Gi-Oh! 5D's Decade Duels, but now with the updated Plus version, there is a plethora of new features for Yu-Gi-Oh! fans to sink their teeth into.
This is also the first time the game has appeared on the PlayStation 3 an is being released as the Plus version.
The Plus version of Decade Duels is slated to introduce a vast array of new features to the mix.
The following new features have been announced and detailed by Konami:
– Voice and Text chat compatibility
– Over 2,000 playable cards, including cards featured in Yu-Gi-Oh! Classic, GX and 5D's Decks
– Hundreds of new cards and packs available for purchase through Xbox Live Marketplace and the PlayStation Store
– Online Multiplayer with up to four-player Tag Duel for total Yu-Gi-Oh! supremacy
– Game play customization with user created rules
– Multiple Game Modes including Quick Match, Rank Match and Custom Match
– Online Leader Boards to track your stats against anyone Worldwide
If you previously purchased Yu-Gi-Oh! 5D's Decade Duels on the Xbox 360, don't fret, you won't need to buy the update as the Plus version will be free for you to download if you already purchased the original Decade Duels.
What do you think of Yu-Gi-Oh! 5D's Decade Duels Plus hitting the Xbox Live Arcade Marketplace and PlayStation Network Store? Let us know in the comments section below.