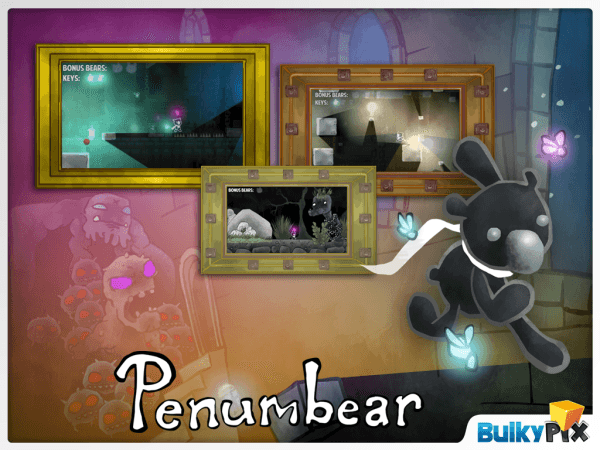 Taco Graveyard, creators of musical runner game Four Hats, have announced that their newest game, Penumbear, will release next week.  Penumbear is a puzzle platformer game coming to iPhone, iPod, and iPad devices and it will be available in the App Store on February 28.
In Penumbear you'll take on the role of a small bear and his purple firefly companion in their attempt to escape a deep, dark castle.  Between Penumbear's ability to walk the line between light and dark and the firefly's ability to turn switches and lights on and off, you'll have quite an adventure ahead of yourself!
The game features include:
The ability to walk on light and shadows, you'll look at your surroundings in a new way.

Over 100 levels, full of exploration and danger.
Secrets: hidden levels, bonus bears, achievements, and an unlockable character.
Challenging – prepare to die many times as you learn your way around the castle!
Giant bosses blocking your path at the end of each area.
For more information you can check out Penumbear's website here, and be sure to check out the trailer for the game below!