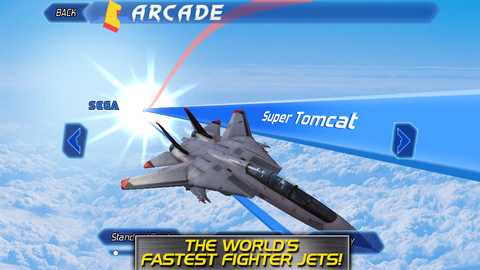 Welcome back for this week's iOS Game Suggestions. If you missed or are new to the suggestions, click on the link below and check what cool games you should be picking up for your iOS along with the introduction and disclaimer on how the suggestions work. (suggestions 1 has the disclaimer and how it all works)
MasterAbbott's iOS Game Suggestions
A great week on iTunes, as always it started slow and but ended with a bang! As always there certainly is a few must buy games this week in all departments, FREE, 99c and over 99c. This week i've suggested a total of 20 great quality titles. Make sure you check them all especially After Burner Climax, Metal Slug 2, Battle Line, Cordy 2, Be Together  just to name a few.
Break down below :
11 – FREE Games
3 – $0.99c Games
6 – Over $0.99c Games
As always for this week's suggestions are all new titles that you should take a look at and consider spending your hard earned iTunes cash / time on.  Well the Free games just below certainly should all be given a shot as they won't cost you anything!
For The Cheapskates – FREE GAMES
MASTERABBOTT'S FREE GAME PICK OF THE WEEK!

Battle Line – Price : FREE – Publisher –Gamevil (Battle Line combines real time strategy and non-stop action in this interactive line defense RPG. Defend against hordes of enemies and beat World Bosses as you grow in your quest to return peace to land. Assemble the finest team to aid you in your quest by choosing from 5 different hero classes, each with their own special attributes. Different weapons determine which skills you can use so master the weapons that best fit your play style! With 9 unique worlds and different challenges, there will never be a dull moment. Put your strength to the test and compete with friends as you survive in the Challenge Mode and climb your way to the top of the charts!) runs on iPad & iPhone. GET IT NOW FOR FREE

 
Polar Bowler 1st Frame – Price : FREE – Publisher –

WildTangent

 (A Polar Bear in an inner tube? Wait, he's BOWLING in the inner tube and there's a penguin with a towel? PB has always loved Polar Bowling. When he was a kid, his dad built him a little alley and gave him an inner tube. Since then he's been launching himself down the lane trying to knock over anything that resembles a bowling pin. As PB grew older, he began thinking he could build a better mousetrap, er…bowling alley. What better place to build it than his own backyard? Building was hard work though!

) runs on iPad & iPhone.

GET IT NOW FOR FREE

 
Strawberry Shortcake – Card Maker Dress Up – Price : FREE – Publisher –

Budge Studios

 (Welcome to the berry ultimate Dress-Up app! Your child will have hours of fashion fun dressing up Strawberry Shortcake and her friends in mix-and-match fresh-and-fruity outfits and accessories. They can even take a photo and decorate it with stickers, frames and custom messages.

) runs on iPad & iPhone.

GET IT NOW FOR FREE

 
Ski Champion – Price : FREE – Publisher –

Majaka

 (Bomb down epic slaloms to victory and become a world class racer ! 5 – 4 – 3 – 2 – 1 … Racer on course ! Hit the trail and pass through every gate. Win medals, compete with your friends and challenge the World Record. Do YOU have what it takes to be the Ski Champion ? Find out now… for FREE !

) runs on iPad & iPhone.

GET IT NOW FOR FREE

 

The Hunger Games Adventures – Price : FREE – Publisher – Funtactix (The OFFICIAL adventure game of The Hunger Games has been rebuilt from the ground up for iPhone, iPod Touch and iPad with stunning Retina graphics and exciting new content around the 2nd novel and film The Hunger Games: Catching Fire! Play for free! Adventure with Katniss, explore with Peeta, get styled by Cinna and adventure in the districts of Panem.) on iPad & iPhone. GET IT NOW FOR FREE

 

Hello Kitty Jewel HD – Price : FREE – Publisher – Sanrio Digital (See your favorite Sanrio characters as shiny, cute and colorful jewels! Match them up as quickly as you can and test your skill in this fun and exciting new puzzle game! The gameplay is simple: Swap any jewel with an adjacent one to form a chain of 3 or more jewels featuring the same Sanrio character. Get points for each matching set of jewels made – the more, the better!) on iPad & iPhone. GET IT NOW FOR FREE

 
Beach Buggy Blitz – Price : FREE – Publisher –

Vector Unit

 (Drive your hot-rod beach buggy as far as you can into the uncharted depths of a mysterious tropical island! Swerve and smash through a gorgeously detailed and completely destructible world packed with Tiki statues, grass shacks, giant crabs and lava monsters. Explore sun-swept beaches, secret caves, fog-shrouded swamps, ruined temples and erupting volcanoes in this action-packed quest of discovery and mayhem!

) runs on iPad & iPhone.

GET IT NOW FOR FREE

 

Word Monster – Price : FREE – Publisher – Otherwise Games (Word Monster is a fun, easy-to-learn, yet deceptively challenging word puzzle game from the makers of MovieCat! With an assortment of puzzles in a variety of sizes, it's the perfect app for bus rides, bathroom breaks, or any other recreational respites, no matter how much time you have to kill!) on iPhone & iPad. GET IT NOW FOR FREE

 

Triple Town – Price : FREE – Publisher – Spry Fox (Triple Town is an original puzzle game in which you try to grow the greatest possible city. The larger the city you build, the more points you score. You build your city by matching three or more game-pieces: combine three grasses to make a bush, three bushes to make a tree… until you've filled the board with houses, cathedrals and castles. Along the way, you'll have to outwit giant bears who will try to block your progress.) on iPhone & iPad. GET IT NOW FOR FREE

 

Dragon Storm – Price : FREE – Publisher – Griptonite Games (The mad dragon-god Shadowclaw has brought war and flames to the world of mortals with his ensorcelled army of dragons. In the final climactic battle, the mortal lords fled with the last of the dragon eggs that had not yet fallen under Shadowclaw's spell. The Goddess of the mortals, with a final burst of divine magic, created mighty flying island ships to save the remnants of her people. As one of the last of the mortal lords and dragon egg protector, you must forge a new destiny.) on iPhone & iPad. GET IT NOW FOR FREE

 

Cordy 2 – Price : FREE – Publisher – SilverTree Media (After a long and harrowing journey, Cordy and Volt finally arrive at World 2, only to find it besieged by the evil Boogaloo. Help Cordy and Volt as they set off to save the Zap Drops from Boogaloo's evil minions, the Boogie Bots! Guide Cordy through 3 action packed and beautiful worlds! Fun filled Carnival world, serene Harmony Harbor and epic Sky Factory!) on iPhone & iPad. GET IT NOW FOR FREE
For The Bargain Hunters – 99c Games
| | |
| --- | --- |
|   | Touch Battle Tank SP – Price : $0.99 – Publisher – Silver Star Japan (Tank Fighting Game, the highly popular downloadable game for Nintendo 3DS, is now available on your smartphone. Control your tank using the cursor on the screen. Fire by touching the desired point on the screen. With this intuitive operation, anyone can play the game.) runs on iPhone & iPad. BUY NOW |
| | Shove Pro – Price : $0.99 – Publisher – Rad Dragon (You know how in an action movie chase scene, the guy being chased will go to unreasonable lengths to shove any extras who are even remotely in his way? Like, he could probably go around them, but instead he'll knock them over or swat the bag of groceries out of their hands?) runs on iPad & iPhone. BUY NOW |
|   | Be Together – Price : $0.99 – Publisher – Chillingo (Help reunite Maya and Ruby in this cute and colorful puzzler. Mixing delightful visuals with fun and experimental physics puzzles, Be Together is as charming as it is deceptively challenging.) runs on iPhone & iPad. BUY NOW |
For The Millionaires – All games over $0.99
 

MasterAbbott's over 99c Pick Of The Week!

After Burner Climax – Price : $2.99  – Publisher – SEGA. (After Burner Climax is fast and frantic arcade-style action, putting you in the cockpit of the world's fastest fighter plane. Dodge planes, rockets and bullets while trying to target multiple on-screen enemy aircraft. Built for all skill levels, everyone will be able to take to the skies and blaze through a branching storyline of over 20 stages. Unlock achievements along the way to activate exclusive power ups using your experience and expertise.) runs on iPhone & iPad. BUY NOW

Metal Slug 2 – Price : $4.49  – Publisher – SNK Playmore (The second chapter of the acclaimed run-and-gun action shooting series, "METAL SLUG 2" launches on iPhone / iPod Touch! Thwart General Morden's evil ambition, and uncover the secret of his new coup!!) runs on iPhone & iPad. BUY NOW

 

Pinwar – Price : $1.99  – Publisher – Bulkypix (Immerse yourself – and the people around you – into the cyber world of PinWar! Enter the BATTLE MODE to challenge your friends (or the computer) in a never-before-seen way: by mashing two pinball tables into one! Your objective: get the ball through the opponent's side, and protect your own end at all cost. Collect power-ups on the way and fight your way to victory!) runs on iPhone & iPad. BUY NOW

 
Dolphins of the Caribbean – Adventure of the Pirate's Treasure – Price : $5.49 – Publisher –

Tivola Publishing

 (Let's go on a fantastic adventure trip in the Caribbean. On Tirimoa island a 3D animal simulation meets an exciting pirate story. Take care of the dolphins and find the treasure!You'll spend your vacation on the gorgeous Caribbean island and there you'll have the once in a lifetime opportunity to help in a dolphin station.

) runs on iPad.

BUY NOW

 
Art Mogul HD – Price : $5.49 – Publisher –

G5 Entertainment

 (Step into the shoes of an Art Mogul in this thrilling mix of hidden object, strategy and business sim. Travel around the world, bidding at exciting auctions, exposing fakes and masterpieces as well as acquiring priceless collections. Find over a thousand objects, open your very own art gallery and build your art empire that will stand the test of time.) runs iPad & iPhone. BUY NOW
 

Zombies & Trains – Price : $1.99  – Publisher – Kristanix Games (Face hordes of zombies in an epic showdown in the arena! Your weapon? TRAINS! Blast through waves of zombies with your powerful iron engines, wreaking havoc with power-ups like Fire Train and Mass Death!) runs on iPhone & iPad. BUY NOW
There you have it folks, these games should keep you busy for quite some time, well till next week at least. I'll be back next week for another dose of iOS goodness, in the meantime if anyone would also like to suggest their own suggestions, please feel free to share them in the comments section below or in the iOS forum section on the site here.
Remember kids, Play Hard Or Don't Play At All!