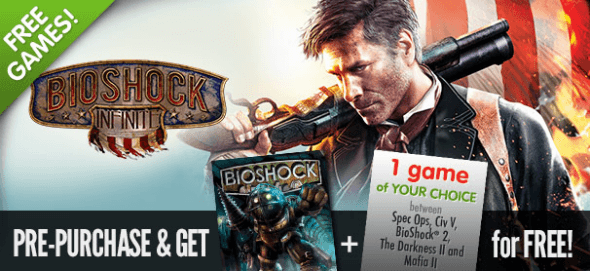 It's snowing here in Canada. Again. That's right. Our winter got postponed to late February this year. So I have plenty of time to compile a list of cheap downloadable games to make you poor. Your wallet can thank the lousy weather outside for its sudden shrinkage.
Let us change things up from the normal pattern this time around and lead off with Amazon's huge Farewell to February sale. As usual, its a giant mess for navigation, but there are over 850 games on sale. Max Payne 3 Complete is on sale for 78% off. The bundle contains Max Payne 3 and the Season Pass for all the DLC. I had a blast with the single player game and the multiplayer portion of the game isn't too bad. Its an excellent price and worth a purchase if you haven't played it yet. The fantastic 2K Strategy Super Pack is on sale for 85% off. The bundle contains Civilization V: Game of the Year Edition, Civilization V: Gods & Kings expansion pack, Civilization IV: The Complete Edition, and The Stronghold Collection for one really low price. All four games activate on Steam and are absolutely worth the purchase if you're a strategy fan. If the 2K Strategy Super Pack isn't enough and you still haven't purchased, Crusader Kings II, it's on sale at 75% again. Call of Duty Black Ops II is on sale for 33%. Frankly, I found the single player utterly forgettable, but I found the multiplayer to be my favourite since Call of Duty 4. Check out our review of Black Ops II here. Prefer Modern Warfare? No problem, the Modern Warfare bundle containing all three games is also on sale for 64% off the regular price.  If you're looking for a good scare and haven't played the first two Dead Space games, they are currently bundled together for 80% off. The first game wasn't the best of ports for the PC, but was still pretty playable. The two games activates on Origin versus Steam. Dark Souls: Prepare to Die Edition is also on sale for 63% off. Considered to be one of the hardest games ever made, there are tons of hard core Dark Souls fan who swear by this game. Check out our review here. As a bonus to the sale, Amazon partnered with Cheap Ass Gamer to bring buyers an additional 25% off the price of one game. Use the code CAGROCKS on one of your purchases to save a little extra cash.
Steam is running two play for free sales this weekend. Call of Duty Black Ops II is the bigger name of the two. It is also 33% off through Steam, but Amazon is cheaper when bundled with the CAGROCKS code at Amazon. Feel free to check it out on Steam and then buy it on Amazon. Gratuitous Space Battles is also on sale this weekend. If you're looking to just blow some ships up without the frills, Gratuitous Space Battles lives up to its name. The game and most of its DLC is on sale for 75% off. Both games can be played for free til Sunday at 1PM PST.
Greenman Gaming is running a fantastic deal for Bioshock Infinite. Anyone pre purchasing Bioshock Infinite will get a copy of Bioshock 1 and a choice of either Bioshock 2, Mafia II, Civilization V, The Darkness II, or Spec Ops: The Line for free. This is on top of the $14.00 cash back or $15.00 GMG credit that Greenman Gaming is already offering. This is the best deal for the game hands down. In addition, the mass of Simulator series games is on sale this weekend for 50% off. Most of the games aren't particularly good, but these games seem to have a really strange cult following. Check out all of Greenman Gaming's weekend sales here.
Get Games is running its Get Loaded deal this weekend with Square Enix. Buyers have three options. First they can buy Sleeping Dogs and Hitman Absolution for $30.00. Or they can buy two games for $10 dollars. options include Deus Ex: Human Revolution, Quantum Conundrum, Dungeon Siege III, and Just Cause 2. Or they can buy all the games on sale for $45.00. This is an excellent price for Sleeping Dogs and Hitman Absolution. If you don't own both games, I highly recommend purchasing both at this price. There are several good titles in the two for $10.00 deal too. If I had to choose my two favourites in that list, it would be Deus Ex Human Revolution and Just Cause 2. I had a blast with both games.
Get Games is also running a normal weekend sale. The theme this weekend is Ubisoft titles. Far Cry 3 is $10.00 off its normal price. I chose Far Cry 3 as my pick for Capsule Computer's Game of the Year, so if you're willing to spend some good cash for the game now, $10.00 off isn't too bad. Check out our review of Far Cry 3 here. Ghost Recon: Future Soldier is on sale for 50% off. I really enjoyed the game and sunk many hours in both the single player and multiplayer game. The Gunsmith is a fun little extra that I spent way too much time tinkering with. If you're looking for a great tactical 3rd person shooter, I highly recommend checking Future Soldier out.