"An interview conducted with PopCap Games"
PopCap has recently launched the beta for their Facebook title, Hidden Agenda. And I have acquired much needed information from the stealthy hands of Hidden Object Executive Producer, Kurt Busch. Hidden Agenda has been discovered!
---
Question 1: I would first like to begin by asking, "Who are you, and what is your role in the creation of Hidden Agenda?"
I'm Kurt Busch, the Executive Producer for Hidden Object games at PopCap and the General Manager of the Vancouver studio. My role in the game was to build a team to take everything we learned creating successful HOG franchises like Mystery PI and Vacation Quest and bring this sort of fun to Facebook. About a year ago, we built a small team around Rick Davidson, the Game Director, and started experimenting with what worked best.
Question 2: According to the initial screenshot release, animals were depicted as the community population. What drove the theme of animal characters?
This was suggested by Nelson, our Lead Artist on the project. His idea was to make everyone animals but treat them as regular characters – no corny animal names or gags. As soon as he did this, everything seemed different. Characters immediately became more sinister, or silly, or endearing.
Question 3: Continuing from the previous question, is there symbolism behind the chosen characters and the roles that they play?
We were working with the idea of two competing families and – as it worked out – all the members of the progress-driven family wound up being carnivores and all the members of the traditional family were herbivores. This wasn't intentional, but it shows the kind of message you can get across about a character just by trading on what different animals represent. When the head of a family is an apex predator, you know you should really watch yourself around him. Incidentally, we weren't entirely consistent on that division.
We leave it to the player's imaginations as to whether the characters are actually animals, or if this is a metaphor for their human personalities. We've found that players have an immediate rapport with the characters without requiring a lot of description or dialogue. When you see a lion, you immediately assume he's forceful and aggressive and at the top of the food chain. Then to add a layer of depth, we created a hidden agenda for every character in the game – something that each character is hiding but the player can discover.
Question 4: Will Hidden Agenda be exclusive to Facebook? If so, why was this venue chosen over the more traditional PC/Mac release?
It's launching as a Facebook exclusive and it was designed specifically for the way people play Facebook games. In our regular PC/Mac titles, the Hidden Object experience is very casual and relaxed. It's all about taking your time to discover all the visual little nooks and crannies of a scene. On Facebook, it's more about dropping into this little world a few times each day and making progress on unraveling the town's many secrets. Also, we wanted to try building a game where we could roll out new content and mysteries every week instead of every few months.
Question 5: Since the title will be released on the social network, how will interactions between friends help propel a player's progress? Will there be rewards for helping others like "energy boosts" to extend the playing experience?
You can help out your friends in a number of ways. If you choose to join a crew to inspect a crime scene, you'll make progress in finding clues more quickly. In the town meta-game, you'll be able to find specific items for your friends. Eventually, we'll give you the chance to hide objects in your friends' towns. We also have some very creative ideas that will definitely help you out if you're playing with friends who are around the same level as you.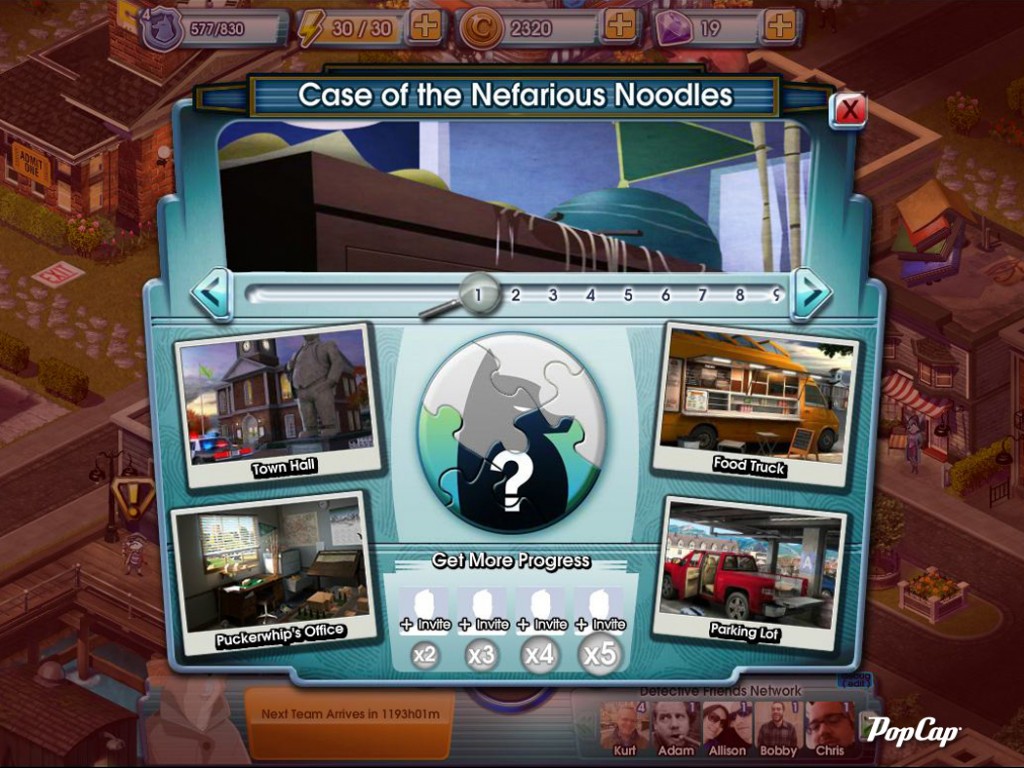 Question 6: Being free-to-play will guarantee more casual players to dive in Hidden Agenda. What is the affordability for the premium content?
Hidden Agenda is divided up into Jobs and Cases. Jobs are sort of scavenger hunts in the town that let you earn currency, energy and special investigative gear like fingerprint kits and security camera tapes. You can always buy these items if you want to do fewer jobs.
Cases are mysteries made up of multiple Hidden Object scenes. Each case has an additional premium scene, meaning a special Hidden Object Screen. Finding all the clues in it will give you access to special graphic novel pages that tell you more of the backstory behind the characters and the case.
Question 7: I haven't heard of this game being developed in rumblings anywhere, and it is being released in early 2013 – not far away. Has there been a hidden agenda for Hidden Agenda?
Well, we ARE a Hidden Object Games studio! We should be able to hide stuff. We started doing prototypes with a small team back in late 2011. We tried a Blitz model and decided that didn't work. Then we tried a more traditional, case-based PI game and we felt we were a lot closer. When Rick and his team joined in late January, he started exploring the idea of creating a world where EVERYTHING – the scenes and the town and the tasks – became a Hidden Object Game. We tinkered with a town-building mechanic and decided it got in the way of the whole-world-is-a-HOG approach. Then we just kept our heads down and worked away. We've been in closed beta within PopCap for the last few months and just started opening it up to the public recently.
Question 8: Like other hidden object games provided by PopCap, can we expect cameos from Bejeweled and other titles?
Yes you can. Don't be surprised if you find a Zombie on your lawn.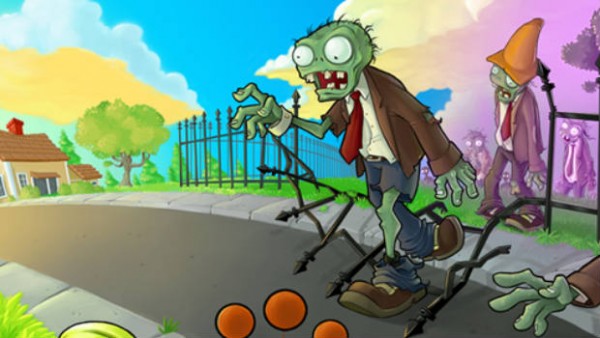 Question 9: Beyond the hidden object content, how many types of alternative mini-games will be available?
Every part of the game is a Hidden Object experience, but that doesn't mean every moment of gameplay is a traditional Hidden Object scene. The entire meta-game is made up of different types of scavenger hunts throughout the town, and these weave in elements of memorization, matching and general hunting around.
In terms of the traditional HOG scenes, we're launching with a conventional seek-and-find mode and a Blitz mode. We're implementing a Spot-the-Difference mode for early in the year. We have a couple other modes that we'll roll out later in the game.
Question 10: Hidden object games are not necessarily known for having extensive playing time. How will Hidden Agenda combat repetition and extend the playability for its players on the social network?
Most Hidden Object games on Facebook have turned the HOG experience into a sort of memory game to promote repeat playability. This has turned into some fun moments in some games, but we approached it differently. We make the repeated investigation of the scenes an opportunity to uncover new clues to advance the case. And the team brought the HOG experience out into the town, with repeated quests to find objects, suspects, friends and characters. When you're exploring the world in Hidden Agenda, you're always trying to find something.
---
That concludes the interview with PopCap's HOG Executive Producer Kurt Busch. Since you have gathered some classified "interrogation" information, go on over and check out Hidden Agenda on Facebook (here).