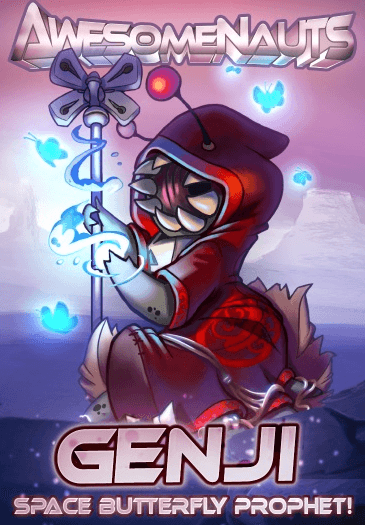 When Awesomenauts was originally released in mid-2012, it had eight playable characters for consoles. Now the PC version has seen another four exclusive characters.  Coming soon, Awesomenauts gets its first new support character – Genji!
Genji is a pollen prophet and one of the last of his caterpillar-type race known as the Entin.  Known for their insatiable hunger, the Entin were almost totally wiped out by starvation with the exception of a few Popae monks who survived by meditating and fasting.  Genji was one such monk but was banished after eating a jar of Jagra eggs in a moment of weakness.
Genji is the first support character to come to the Awesomenauts universe since Voltar.  He's currently being put through his paces in closed beta.  Changes will go live as soon as testing has completed.
You can get more Awesomenauts information here, and be sure to check out the trailer below for a better feel of who Genji is and how he plays!