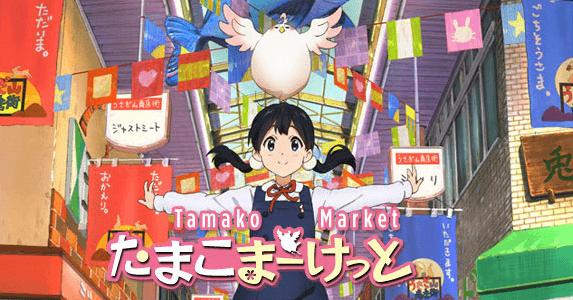 It looks like the drought of 2013 anime licenses may be coming to an end. Today Sentai Filmworks has announced that they have acquired the license to Tamako Market, which is an original anime being produced by Kyoto animation (best known for K-ON! and Chu2Koi) and directed by K-ON1's Naoko Yamada.
Full release details were not provided by Sentai at this time, though they are planning on releasing it sometime later this year physically, but until then it has been announced that The Anime Network will begin streaming the show on Thursday, January 10 at 9:30 AM CST with every episode after that debuting at the same time.
Sentai Filmworks provided a brief synopsis of Tamako Market's story which can be read below:
Tamako knows just about everything there is to know about mochi, the traditional Japanese dessert treats. When she's not attending her first year of high school, she even invents new flavors and varieties for Tama-ya, her family's mochi shop. School and growing up, on the other hand, are some things that she's still trying to find the right recipe for. But with the help of her best friends Kanna and Midori, two girls whose parents run businesses in the same shopping district, Tamako's determined to make the best of things. It's complicated though, especially when it comes to emotions and her relationship with her best boy friend Mochizo, whose family runs a rival mochi shop. And lately, Kanna's been feeling a little odd about her feelings towards Tamako as well. And what's with up with that strange bird fluttering around, the one that speaks fluent Japanese? It's all very mysterious and overwhelming, but at least Tamako always has one thing she can count on: No matter if your day's been good or bad, there's certain to be something sugary and delicious waiting at the end of every adventure whenever you take a walk through TAMAKO MARKET!
This actually marks only the second licensing announcement for an anime airing in 2013, with Love Live! being the first licensed this year by NIS America.