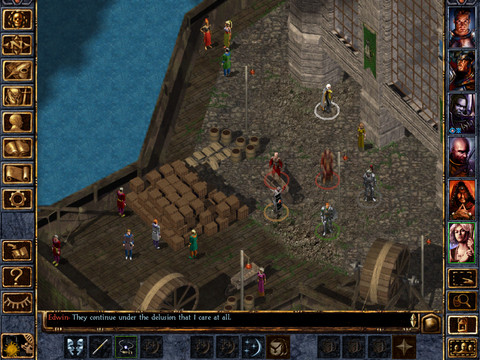 Welcome back for this week's iOS Game Suggestions. If you missed or are new to the suggestions, click on the link below and check what cool games you should be picking up for your iOS along with the introduction and disclaimer on how the suggestions work. (suggestions 1 has the disclaimer and how it all works).
MasterAbbott's iOS Game Suggestions
A great week on iTunes, as always it started slow and but ended with a bang! As always there certainly is a few must buy games this week in all departments, FREE, 99c and over 99c. This week i've suggested a total of 22 great quality titles. Make sure you check them all especially Baldur's Gate, Joe Danger, Zenonia 5, Little Amazon, Time Surfer, Death Golf, ShaqDown just to name a few.
Break down below :
10 – FREE Games
6 – $0.99c Games
6 – Over $0.99c Games
As always for this week's suggestions are all new titles that you should take a look at and consider spending your hard earned iTunes cash / time on.  Well the Free games just below certainly should all be given a shot as they won't cost you anything!
For The Cheapskates – FREE GAMES
 

MASTERABBOTT'S FREE GAME PICK OF THE WEEK!

ZENONIA 5 – Price : FREE – Publisher –Gamevil (Long ago, a great war was fought to restore peace and harmony to mankind. But as the years passed, greed and selfishness corrupted the hearts of man. The elite rich began to exploit the poor and great darkness came over the kingdom. Then, from the ruins of a slum village, rises a hero destined for greatness… Immerse yourself once again in the best action RPG for mobile. Defeat impossible bosses and unravel the mysteries in stunning HD!) runs on iPad & iPhone. GET IT NOW FOR FREE

 

Noble Nutlings – Price : FREE – Publisher – BoomLagoon (Join the Nutlings on the wackiest ride you've ever experienced! Build your dream cart and show your friends who's in charge. FREE TO PLAY! Physics based awesomeness. Build your dream cart – thousands of combinations! Beat your friends' scores and brag about it!) on iPad & iPhone. GET IT NOW FOR FREE

 
Run'n'Gun – Price : FREE – Publisher –

Gaijin Entertainment

 (Run'n'Gun is a new runner/shooter developed by Gaijin Entertainment, which offers you both rushing around and plinking. In those troubled times when everyone might easily come across trolls or even uglier ones, when every child kept a revolver under his or her pillow, there was only a nearby tavern to beguile a boring afternoon. At the late hour all are equal at the bar desk – either a sheriff, or a hunter, or a nasty troll. They said a city bank was robbed, and everybody who seems to be capable of breaking strong safe locks has fallen under suspicion.

) runs on iPad & iPhone.

GET IT NOW FOR FREE

 
GeoDash: Wild Animal Adventure – Price : FREE – Publisher –

National Geographic Society

 (Geo is on a mission and he needs your help! Join the curious robot as he explores Earth's habitats, earning awesome animal abilities along the way. You'll be able to leap like a poison frog, dig like an armadillo, climb like a baboon—even run like a cheetah! Every time you get a new ability, Geo gets a new look. As you explore, you'll collect animal

) runs on iPad & iPhone.

GET IT NOW FOR FREE

 
The Blockheads – Price : FREE – Publisher –

Majic Jungle Software

 (Explore, mine, craft and build in this giant and detailed sandbox game. Navigate huge simulated worlds thousands of blocks wide with a full temperature and climate system, seasons, an equator, and frozen poles. Explore complex cave systems and flowing water, and survive deserts and snowy mountain tops.

) runs on iPad & iPhone.

GET IT NOW FOR FREE

 

Pony Trails – Price : FREE – Publisher – Chillingo – (Go on pony trekking adventures in the great outdoors! Saddle up and explore mountain paths, desert trails, and coastal courses atop your trusty steed. Steer your stallion using intuitive tilt controls and snap pictures of the wildlife you discover. Return to the stables to clean, care for, and purchase new riding gear for your pony.) on iPad & iPhone. GET IT NOW FOR FREE

 

Amazing Ants – Price : FREE – Publisher – Pocket Gems Publishing (Make these jumping ants FLY with Rocket Sticks, TUNNEL underground, FLOAT in soap bubbles, and BOUNCE off water sprinklers to get golden apples, luscious berries, mouth-watering peppermints and much more! Loaded with fun physics game play, challenging puzzles, and gorgeous graphics, Amazing Ants will keep you on the edge of your seat.) on iPad & iPhone. GET IT NOW FOR FREE

 
Little Amazon – Price : FREE – Publisher –

Bulkypix

 (Join Lily as she flees the cursed lair of the horrible demon Grûûl. Use the exceptional agility and extraordinary abilities of an amazon to run as far as possible! Jump from hill to hill, go around the creatures of the forest and destroy them using your destructive powers.

) runs on iPad & iPhone.

GET IT NOW FOR FREE

 

Townsmen – Price : FREE – Publisher – HandyGames (Grow your tiny village to a grand medieval city with a thriving economy and happy Townies! From mining, logging and farming to the production of jewelry, tools and clothing – a well managed economy is the key to success! Build churches, taverns and marketplaces for your Townies! Beautify your city with splendorous statues, magnificent monuments and lush parks and gardens) on iPhone & iPad. GET IT NOW FOR FREE

 

Pinball Kid – Price : FREE – Publisher – Sauce Digital (Remember the days of handheld plastic pinball toys? Then Pinball Kid is for you! Too young to know what we're talking about? Then Get Pinball Kid anyway, it's awesome! Pinball Kid is a nostalgic iOS tribute to the toy pinball games of yesteryear. With retro styling and classic gameplay, it will keep you amused for hours.) on iPhone & iPad. GET IT NOW FOR FREE
For The Bargain Hunters – 99c Games
Swing King – Price : $0.99 – Publisher – Chillingo (Fling the King, save the kingdom. The King's furry kingdom is in jeopardy. Time to swing into action! Fling the King across levels, through obstacles and traps to grab stars and reach his flying unicorn. Use simple touch controls to aim the King's trajectory, move obstacles out of his way, and use power-ups such as the sticky grappling point and the boxing glove. Your kingdom is in trouble. What are you waiting for?) runs on iPhone & iPad. BUY NOW

 

Time Surfer – Price : $0.99 – Publisher – Kumobius (Surf for your life across the galaxy! An inevitable destructive force is after you… The end of the universe! Your only hope? You can cheat death by rewinding time! Get ready for the most psychedelic adrenaline-pumping surf of the year!) runs on iPad & iPhone. BUY NOW

 

Death Golf – Price : $0.99 – Publisher – Ayopya Games (If you like golf games and platform adventures then Death Golf is THE game for you! Adventure through incredible golf courses in this revolutionary platform golf game. Use skill and timing to aim your shots, then combat ferocious predators and ingenious traps on a journey to the hole!) runs on iPhone & iPad. BUY NOW

 

Wake The Cat – Price : $0.99 – Publisher – Chillingo (Wake a kitten from her endless slumber and dreams of fish by experimenting with meticulously designed contraptions. Fling the yarn across the room and use toy trains, portal slippers, fans and more to help guide the yarn to the dozy cat.) runs on iPhone & iPad. BUY NOW

 
Catch The Arc – Price : $0.99 – Publisher –

Chillingo

 (Can you survive the jungle and catch the ark? A flood is coming and Catch the Ark's three adorable creatures Titan, Boon, and Zuzu haven't got an invite to board Noah's Ark. Armed with just a raft, the trio must brave the jungle rapids where outrageous hazards, hungry enemies, and even grumpy old Noah himself is out to ensure they don't make it out alive. Can you catch the ark?) runs on iPhone & iPad.

BUY NOW

 

Shaqdown – Price : $0.99 – Publisher – One Speak Entertainment (Celebrity Basketball star Shaquille O'Neal stars in his first action game for mobile! In a post apocalyptic future, the mutation of a zombie virus creates a new sentient breed of zombies that have enslaved mankind. It's up to SHAQ to take down these Mutant Zombies with his awesome powers and abilities. GET READY FOR A SHAQDOWN!) runs on iPhone & iPad. BUY NOW 
For The Millionaires – All games over $0.99
MasterAbbott's over 99c Pick Of The Week!

Baldur's Gate: Enhanced Edition – Price : $10.49  – Publisher – Beamdog (Play the Legend. This classic saga of mystery, intrigue, and adventure has set the standard for Dungeons & Dragons™ computer role-playing games ever since. Now, upgraded and enhanced, it comes to your iPad. With the following features! 80 hours of Epic RPG adventure. Over 40 classes and kits, Over 100 spells, over 150 magical items, New adventure: The Black Pits, a thrilling combat adventure. New character: Rasaad yn Bashir, a Calishite Monk searching for answers. New character: Dorn Il-Khan, a half-orc blackguard with a history of violence. New character: Neera the Wild Mage, a half-elf on a quest to control her powerful magic.) runs on iPad. BUY NOW 

 

Joe Danger – Price : $2.99  – Publisher – Hello Games (Wear the cape of the World's Most Determined Stuntman, and take your trusty motorbike on a wild ride from zero to hero! Race, ride and defy death as you jump buses, dodge giant mousetraps, leap tanks full of sharks and reclaim your title of Master of Disaster! Swipe Joe to pop a wheelie, flick obstacles out of the way, tap to jump, hold down to crouch and waggle to fight sharks!) runs on iPhone & iPad. BUY NOW

 
Hundreds – Price : $2.99 – Publisher –

Semi Secret Software

 (DESIGNED FOR AGES 2 TO 222: The goal of Hundreds: Grow at least 100 points between the circles in each puzzle. Circles turn red and volatile while being grown and if they collide, it's game over. It's that easy.

) runs on iPad.

BUY NOW

 
Redemption Cemetery: Children's Plight Collector's Edition – Price : $4.99 – Publisher –

Big Fish Games

 (A warlock's curse has trapped you in an otherworldly cemetery! Explore gorgeous Hidden Object scenes and save the children that the warlock has taken. Learn the history of the evil warlock and find a way to stop him before it is too late! Help other spirits find peace as they help you find useful items and overcome challenging obstacles in Redemption Cemetery: Children's Plight!) runs iPad & iPhone. BUY NOW
 

Abyss: The Wraiths Of Eden – Price : $2.99  – Publisher – G5 Entertainment (Ready to strap on your oxygen mask? Famed underwater explorer Robert Marceau has disappeared under mysterious circumstances, and now his fiancée must descend to the gloomy depths of the ocean to find him. Venture into unknown and unsettling waters to investigate the sunken city of Eden, now controlled by demons, find hidden objects and confront eerie sea monsters in this heart-pounding quest to save a missing diver!) runs on iPhone & iPad. BUY NOW

 

Rails – Price : $2.99  – Publisher – Belight Software. (Introducing Rails, the official remake of Shortline Railroad, one of biggest and most addictive gaming sensations of the 90s! You're controlling the railroad today! Build tracks and guide trains to their stations, keeping the rail yard collision-free. Control the railroad switches and signals to lead trains from Point A to Point B, raking in money and earning achievements along the way.) runs on iPhone & iPad. BUY NOW
There you have it folks, these games should keep you busy for quite some time, well till next week at least. I'll be back next week for another dose of iOS goodness, in the meantime if anyone would also like to suggest their own suggestions, please feel free to share them in the comments section below or in the iOS forum section on the site here.
Remember kids, Play Hard Or Don't Play At All!