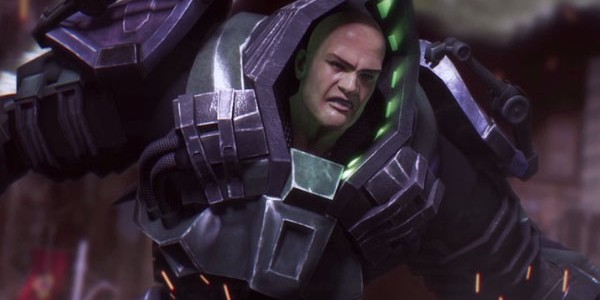 Warner Bros. Interactive Entertainment and DC Entertainment have released a new trailer for Injustice: Gods Among Us entitled "Versus". And in it, we see some familiar faces from the DC Universe in action for the first time. You can view the video below the article.
First up is the war-suit-powered Lex Luthor, who is bringing some real firepower to the table. The glimpse is short, but he really does make purple a very intimidating colour. The second is The Joker. Now, remember, I said "in action" and technically I am right…there is a half-second long snippet that shows him getting tombstoned (not the wrestling move) by Solomon Grundy. Alas, none of his offense is revealed.
The trailer also features some nice soundbytes from each of the characters, which pertains to their outlook on their immediate situation, the lead-in story of which you can learn about before the game's release on April 17th by purchasing the prequel comics. The first three issues are out now on Amazon Kindle, Comixology and the DC Comics App.
Check the 'Versus' trailer out below and let us know which characters you would like to see in the game that haven't already been announced.