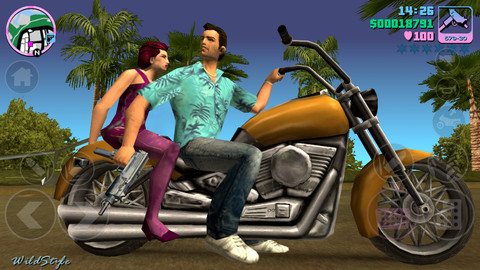 Welcome back for this week's iOS Game Suggestions. If you missed or are new to the suggestions, click on the link below and check what cool games you should be picking up for your iOS along with the introduction and disclaimer on how the suggestions work. (suggestions 1 has the disclaimer and how it all works)
MasterAbbott's iOS Game Suggestions
A FANTASTIC great week on iTunes, as always it started slow and but ended with a bang! As always there certainly is a few must buy games this week in all departments, FREE, 99c and over 99c. This week i've suggested a total of 21 great quality titles. Make sure you check them all especially TGrand Theft Auto Vice City,  Modern Combat 4, Hollywood Monsters, Raiden Legacy, Sage Fusion, Tiny Legends: Heroes, Mutant Mudds, The Dark Fantasy, Smash Cops Heat just to name a few.
Break down below :
6 – FREE Games
8 – $0.99c Games
7 – Over $0.99c Games
As always for this week's suggestions are all new titles that you should take a look at and consider spending your hard earned iTunes cash / time on.  Well the Free games just below certainly should all be given a shot as they won't cost you anything!
For The Cheapskates – FREE GAMES
 
The Dark Fantasy – Price : FREE – Publisher –

Althi Inc

 (Help the kingdom that is almost destroyed by the dark invaders!The Dark Fantasy is a fantasy battle game to help the kingdom to revive by strengthening your military with dragons,beasts, knights and mages against enormous evil enemies! Build facilities and collect Gold to strengthen your military to a battle against your enemies! Improve your level by completing quests and/or beating enemies! Make an alliance with your friends and cooperate together to beat your enemies and beasts!

) runs on iPad & iPhone.

GET IT NOW FOR FREE

 
Into the Dead – Price : FREE – Publisher –

PikPok

 (In a world overrun with the Dead, you have survived… but for how long? Into the Dead throws you into the gruesome world of the zombie apocalypse where there are no second chances. Do what you have to in order to stay alive, keep moving as fast as you can, and protect yourself by any means necessary. When the Dead are rising, run!

) runs on iPad & iPhone.

GET IT NOW FOR FREE

 
Smash Cops Heat – Price : FREE – Publisher –

Hutch

 (The smash hit action game enjoyed by over five million players is back, supercharged with cool new features, bonus missions and extreme pursuit vehicles. Hit the streets and take on a city full of criminal mayhem!

) runs on iPad & iPhone.

GET IT NOW FOR FREE

 
Virtual Families 2: Our Dream House – Price : FREE – Publisher –

Last Day Of Work

 (Virtual Families 2 has all this and more. Adopt a little person and start a family. Make babies and pass the house on to the kids!Train your little people to behave as you wish by praising and scolding them. Your little people will send you messages, thanking, pleading, and praising you for caring for them. Runs in True Real Time. Your little people continue to live, eat, grow, and work when the app is switched off.

) runs on iPad & iPhone.

GET IT NOW FOR FREE

 

Car Town Streets – Price : FREE – Publisher – Cie Games (Find, build, and race with all your favorite cars in Car Town Streets. Join Roxy in her quest to restore the town to its former glory when cars ruled the streets. Form teams and compete in head-to-head race battles for ultimate victory. Build your Car Town today!) on iPad & iPhone. GET IT NOW FOR FREE

 
Top Gear: Stunt School Revolution – Price : FREE – Publisher –

BBC Worldwide

 (Millions have downloaded Top Gear: Stunt School Revolution. With incredible visuals, loads of outrageous cars, iconic world locations, endless and mostly ridiculous customizations and truly unbelievable stunts, it's everything you'd expect from the Top Gear team. Want to balloon hop a motor home to clear the Grand Canyon? Use your sports car and escape Alcatraz by leaping as far as you can and landing on a barge? Speed through a roller-coaster on a New York skyscraper with a cow on your pickup? You can do all this and more in Top Gear: Stunt School Revolution.

) runs on iPad & iPhone.

GET IT NOW FOR FREE
For The Bargain Hunters – 99c Games
 

Tiny Legends: Heroes – Price : $0.99 – Publisher – Triniti Interactive Limited (A sinister shadow stretches over the land of Kromdor. The dark lord Necralis has imprisoned the continent's greatest champions and unleashed hordes of murderous monsters on a reign of terror. But into the darkness step brave new adventurers! Do you have the courage to lead them into a new age of heroes?) runs on iPhone & iPad. BUY NOW

Herd Herd Herd – Deluxe – Price : $0.99 – Publisher – 2K Play (It's Ei-Ei-Uh-OH! at Farmer Jed's Haywire Homestead – the animals are makin' a break for it, so you better wrangle 'em in quicker than a hiccup! Use all kinds a herdin' skills to scoot cluckin' chick'ns, springy sheep and balky bovines back to their pens while avoidin' coyotes, foxes and chick'n poxes! Things aren't exactly OK at this corral when the terrain gets tricky; bridges collapse and the fences give you a shock, so be careful herdin' or yer livestock won't be live very long!) runs on iPad & iPhone. BUY NOW

 

Man in a Maze – Price : $0.99 – Publisher – Chillingo (Survive the maze and win big! Enter the deadly game show of Man in a Maze and make sure plucky young contestant Chuck leaves its massive maze with more than just his life. Get your five minutes of fame hiding from patrolling robots, avoiding deadly traps, collecting diamonds and tokens, and fighting back with nifty gadgets and weapons.) runs on iPhone & iPad. BUY NOW

 

Mutant Mudds – Price : $0.99 – Publisher – Renegade Kid (Love pixels? Fond of platformers? Is there a special place in your heart for the 8-bit and 16-bit era? Want to have fun? Yes!? Well, you've come to the right place, my friend. Mutant Mudds is a "12-bit" action platformer full of pixels and platforming fun! Our hero, Max, may be just a 2D sprite, but he can leap into the third dimension by jetting between the background and the foreground playfields with his trusty jetpack in this unique dimensionally-woven experience.) runs on iPhone & iPad. BUY NOW 

 
Nitro Chimp – Price : $0.99 – Publisher –

Chillingo

 (An endless racer with monkeys and stunts – what more could anyone want? Go bananas for Nitro Chimp, the world's fastest stunt monkey on two wheels. Steer this stunt mad simian using intuitive tilt or touch controls to avoid the dangers of the open road. Collect power-ups that'll have your gorilla nemesis eating your dust, and swipe the screen to perform amazing stunts.) runs on iPhone & iPad.

BUY NOW

 

Motorblast – Price : $0.99 – Publisher – Mad Processor (Choose your racing style: Blow your enemies off the track or overtake them in a fair race – we mixed both styles together to form an insanely brilliant racing mix. From the developers of Uber Racer and Parcel Panic Jump into the seat of a race car and take the battle to the track – Motorblast takes the racing experience one giant step further! With the assistance of rockets, guns, mines, shields, rocket thrusters, an EMP device and lots of guts, you have everything it takes to dominate the field!) runs on iPhone & iPad. BUY NOW 

 
Experiment  – Price : $0.99 – Publisher –

Headup Games

 (Your help is needed in this extremely diverse Match 3 game! One day Sophie, the heroine of Experiment, awakes suddenly to find herself in an empty room. Her memory is totally blank and she cannot understand how she got there. Now it is up to you to guide amnesiac Sophie through this unique Match 3 game – She is depending on you and your help!) runs on iPhone & iPad.

BUY NOW

 
Stickman Ski Racer  – Price : $0.99 – Publisher –

Robert Szeleney

 (Take your skis and hammer down the most beautiful and most dangerous mountains in the world and experience the amazing feeling of Stickman Ski Racer. Perform insane jumps and stunts while rushing down the hills trying to avoid deadly avalanches, rusty weak bridges or profound abysses. Variety and entertainment guaranteed with flood lighted night slopes, snow cannons, deep powder snow, crazy slopes as well as customizable playable characters.) runs on iPhone & iPad.

BUY NOW
For The Millionaires – All games over $0.99
 

MasterAbbott's over 99c Pick Of The Week!

Grand Theft Auto – Vicy City – Price : $4.99 – Publisher – Rockstar Games (Welcome back to Vice City. Welcome back to the 1980s.From the decade of big hair, excess and pastel suits comes a story of one man's rise to the top of the criminal pile. Vice City, a huge urban sprawl ranging from the beach to the swamps and the glitz to the ghetto, was one of the most varied, complete and alive digital cities ever created. Combining open-world gameplay with a character driven narrative, you arrive in a town brimming with delights and degradation and given the opportunity to take it over as you choose.) runs iPad & iPhone. BUY NOW

 

Modern Combat 4: Zero Hour – Price : $5.49  – Publisher – Gameloft (The #1 FPS is back on smartphone with a new chapter to push the boundaries of mobile gaming even further. In the wake of a nuclear disaster, the only chance to avoid global devastation is in the hands of the few elite soldiers who must track down and rescue the world's leaders from a frighteningly familiar terrorist group.) runs on iPhone & iPad. BUY NOW

 

Hollywood Monsters – Price : $5.49  – Publisher – Bulkypix (HOLLYWOOD MONSTERS (aka THE NEXT BIG THING) revisits with class and humor the fantastic cinema universe in a modern and funny adventure, packed with references to the genre's popular movies and series. It offers a story full of comedy, shivers, mystery, romance, suspense, twists and turns, action, lies, monsters, fridges, teleportation cabins, stolen brains, half meter flies, Egyptian bombshells, Mexican werewolves, Australian crocodiles, and… What? You didn't think I was going to reveal everything, did you?) runs on iPhone & iPad. BUY NOW

 

RAIDEN LEGACY – Price : $5.49  – Publisher – DotEmu (RAIDEN LEGACY, a four-title compilation of the mega-popular RAIDEN arcade series, includes RAIDEN, RAIDEN FIGHTERS, RAIDEN FIGHTERS 2 & RAIDEN FIGHTERS JET. Originally developed by Seibu Kaihatsu, each of these classic scrolling shooters has not only been authentically recreated for mobile, but also enhanced with brand-new features!) runs on iPhone & iPad. BUY NOW

 
Sage Fusion – Price : $2.99 – Publisher –

Kidalang

 (Sage Fusion is a hybrid between Role-Playing Game (RPG), adventure game, and visual novel, featuring turn-based battle system, more than 70 hand-drawn background and story illustrations, and an engaging space opera storyline that is told through the gameplay. Explore the futuristic city of Capistad, the capital of the Galactic Union.

) runs on iPad.

BUY NOW

 

Minigore 2: Zombies – Price : $1.99  – Publisher – Mountain Sheep. (The furries are gone and a new threat is emerging from the dark corners of Hardland. You must help JOHN GORE fight his way through sunny lakes, graveyards and freezing plains into a stormy forest where the legendary METUSALEM has brought to life murderous chefs, giant lumberjacks, killer penguins, a single moose, three hundred rabbits and the entire undead army of the COSSACK GENERAL. Will you survive?) runs on iPhone & iPad. BUY NOW

 

Spellwood – Word Game Adventure – Price : $1.99  – Publisher – SEGA (Become a word wizard! Spellwood is a word game adventure that makes you better at word games. Wield words in battle, mix it up with magic, and feel your powers grow. Features :  Solo adventure and multiplayer modes. For iPhone, iPod touch, and iPad. Retina ready. Supports iPhone 5, iPad, and the iPad mini screens. Play with friends with Gamecenter and Facebook) runs on iPhone & iPad. BUY NOW
There you have it folks, these games should keep you busy for quite some time, well till next week at least. I'll be back next week for another dose of iOS goodness, in the meantime if anyone would also like to suggest their own suggestions, please feel free to share them in the comments section below or in the iOS forum section on the site here.
Remember kids, Play Hard Or Don't Play At All!