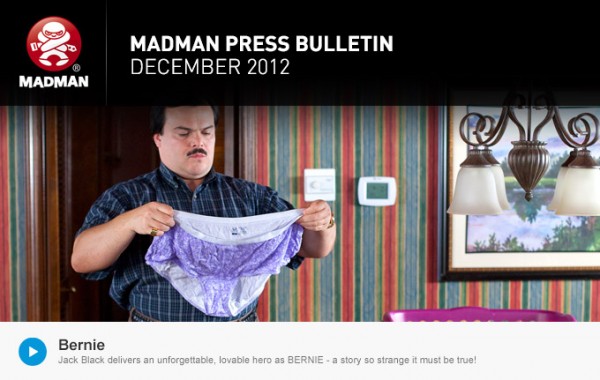 Madman Entertainment have released their December 2012 release highlights all of which cover a broad spectrum of entertainment from comedy to drama to anime to cartoons.
On the film side of things Madman will be releasing a number of new titles, such as 360 a thrilling drama about the intricacies of love and relationships. Also on the list of releases is films like Here, Beyond the Black Rainbow, Life Without Principle and Paul Kelly: The Story of Me. But without a doubt the spotlight is shining brightly on Jack Black starring serial killer dramedy Bernie.
For those looking for something more lighthearted Madman has your comedic relief fix with America in Primetime, Warehouse Comedy Festival Series 2 and This is England 88.
Finally on the other end of the spectrum there is a decent amount of animation releasing this month. Madman touts animated series and films like Metalocalypse Season 4, Regular Show Slack Pack, Transformers Prime Season 1, Naruto Shippuden: Movie 3 – The Will of Fire and King of Thorn as the animation highlights of the month.
What do you think of Madman's line-up for December 2012? Let us know in the comments section below.