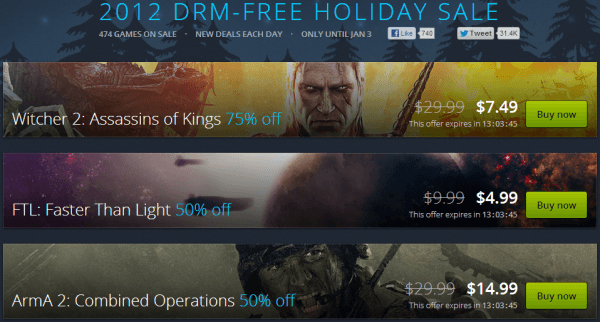 Just in time for the holidays! We're not quite in Steam Winter Sale zone quite yet, but plenty of digital download sites are putting out some great deals ahead of time.
To kick things off, GoG.com has their 2012 DRM-Free Holiday sale going on from now until January 3rd, 2013. Each day brings three new DRM free games at a serious discount. Today has Witcher 2: Assassins of Kings at 75% off at $7.49. This great RPG seems to go on sale every Steam Winter Sale and comes with a GoG.com redeemable key, so there is no fear in holding off if you want a Steam key. FTL: Faster Than Light is at its lowest price yet at $4.99, its a great indie game and I highly recommend it. Finally, ARMA 2: Combined Operations is $14.99 or 50% off. You'll need this if you plan on playing the fantastic mod Day Z while waiting for the stand alone release, plus ArmA 2 a cult favourite as a highly realistic FPS simulation. To leave out the word simulation in the description wouldn't do it justice. There are a pile of other games on sale at GoG.com that will span the whole sale period, so check out all the deals here.
Steam is kicking off the weekend with a free weekend for Red Orchestra 2: Heroes of Stalingrad Game of the Year edition. The game and the Tripwire Interactive Bundle is on sale for 75% off the regular price here. The Crysis franchise is also on sale over the weekend at %75 off. The original Crysis redefined the benchmark for cutting edge visuals, and Crysis 2 carried on this tradition. Check it out here. Both of these are part of the weekend deal, so these prices will last until Monday 10am PST. The Grotesque Tactics 1&2 pack is also 75% off at Steam right now. This strategic RPG indie title spares no RPG stereotype in its satire, so check it out here.
Gamefly has Sleeping Dogs Digital Edition for $16.99 USD here. This great open world game captures the spirit of Hong Kong cop flicks perfectly, my only disappointment with the game is the lack of full Cantonese voice acting instead of the English with a few Cantonese sprinkled in. Check out our review here. The Gamefly version is a Steam redeemable key and contains the Triad Enforcer pack bundled with the game.
Finally, Greenman Gaming rounds out this batch with today's daily deal. Paradox Interactive's King Arthur II is their take on the Total War series is on sale for $2.49. Add the GMG25-CZPYL-D5MQ6 coupon and the game can be purchased for $1.87 USD. Check it out here.