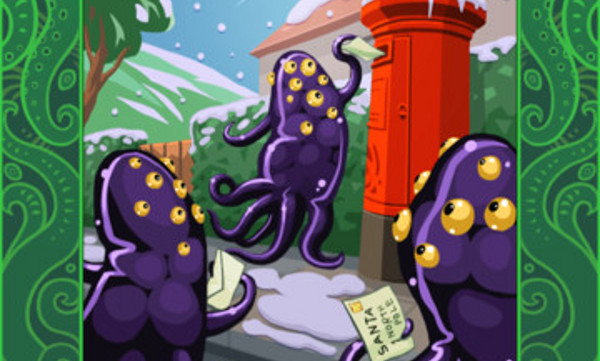 A fun running gag amongst those who enjoy the Cthulhu Mythos is the combination of the creatures and various themes surrounding the Mythos and Christmas, if only because the juxtaposition of horror inducing monsters and one of the premiere holidays is pretty goofy and fun.
Joining in Red Wasp Design, the makers of the Call of Cthulhu: The Wasted Lands iOS game, have put together a fun little advent calendar to count down the days until Christmas with Cthulhu Mythos fixtures, such as the shoggoths sending out there letters to Santa above.
Even better for today only, December 1st, 2012, Red Wasp Design has the iPad and iPhone versions of the advent calendar free.  Players wanting a fun and unique countdown to Christmas Day can download the iPad version HERE and the iPhone version HERE.