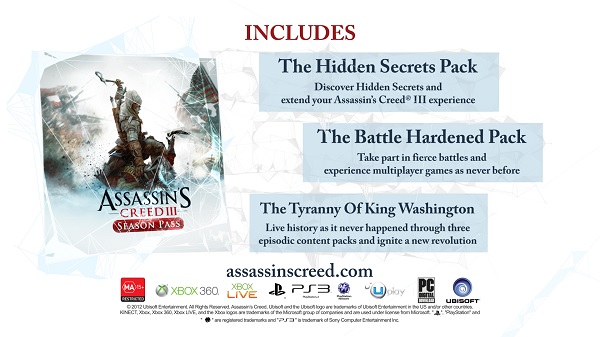 If you happen to be one of the illustrious Assassin's Creed 3 season pass owners then you will find that the game's first piece of DLC is now available for download across the PC, PS3 and 360 platforms. The DLC is titled 'Hidden Secrets' and if you didn't drop the extra money for the Season Pass, you will have to wait until December 11th to download the DLC on those platforms. As for Wii U owners, the DLC is currently scheduled for release at a later, currently unknown, date.
Hidden Secrets will provide three extra missions including Lost Mayan Ruins, Ghost of War, and A Dangerous Secret which were all featured in the pre-order bundles of the game. The DLC will also include the Colonial Assassin and Captain of the Aquila costumes for single-player, as well as Redcoat and Sharpshooter character skins for multiplayer.
As you can see above, Ubisoft also revealed that the Tyranny of King Washington DLC will be split into three separate packs, though the price and release date of these packs was not revealed at this time. Now if you still feel like it, you can purchase the Season Pass for Assassin's Creed 3 for $29.99 or 2400 MSP depending on your console of choice and you will be able to download each piece of DLC for Assassin's Creed 3 once it is released.