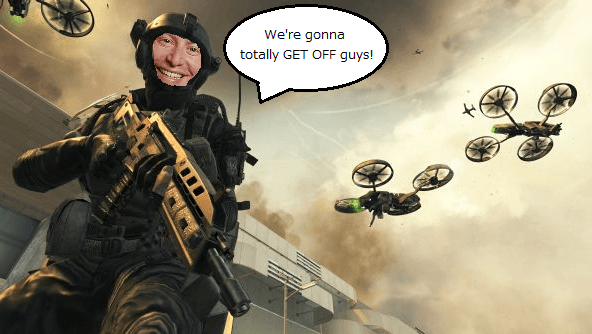 As if it was ever in question, Call of Duty: Black Ops 2 is an absolute and utter success after accruing more than $1 Billion in returns after just 15 days since launching. In other news Activision is now planning on purchasing Africa for development of a real life Call of Duty style survival game which will surely result in the fall of man.
This is obviously great news for Activision, Black Ops 2 has beaten out Modern Warfare 3 by making it to that cool billion 1 day earlier. While the game has  received mixed reviews across the board, it is undoubtedly a financial success because you know a billion dollars is a lot of money in the bank dawg.
Now our only concern is when we will each be drafted into Activision's horrifying survival game. Activision head honchos are said to be tirelessly watching over the Battle Royale in an attempt to 'get off'. Will they 'get off' or will civilization crumble under the wait of our new masters The Glorious Activision?
What do you think of Black Ops 2 making that smooth billion in just 15 days? Let us know in the comments section below. May god save us all from Activision's sick and twisted African Battle Royale!