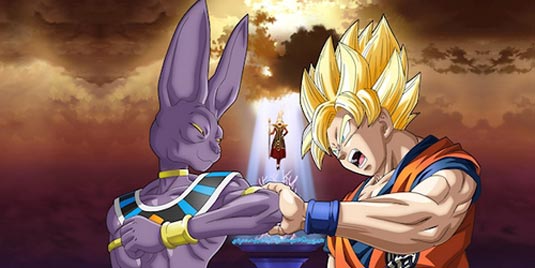 Since the announcement of the upcoming animated feature film Dragon Ball Z: Battle Of Gods, Dragon Ball fans have been doing backflips in anticipation for it. Fortunately, these last few months have seen some of the greatest DBZ fan films to date, hitting Youtube and generating millions of views. Here's a select 4 that every hardcore Dragon Ball fan needs to watched for those who may of missed them, this should help prepare you for Dragon Ball Z: Battle Of Gods!
4. Dragon Ball Absalon
From Youtuber mellavelli, Dragon Ball Absalon is a 3-episode animated saga loosely based upon the 1997 april fool's joke Dragon Ball AF, and features the infamous Super Saiyan 5 transformation seen from said joke. The animated series takes place years after Dragon Ball GT and features much of the original cast at much older ages, with also new characters as well that compliment the art style of the original series. Furthermore, the voice cast contains various Youtubers that sound pretty damn close to the original voice cast so that's also a major plus. Make sure to check out the channel for more and follow it on Facebook as well! Watch Dragon Ball Absalon Episode 1 below:
3. Dragonzball PeePee
Are you real Super Sand? Released just last week, OneyNG released this hilarious follow up to his 2011 parody, Dragon Ball P. This skit is based upon the first encounter with Frieza, (or Frizbee as he is called here) and it's straight up hilarious. You can follow the artist for more via his Youtube page or Facebook. Watch Dragonzball PeePee below:
2. The Runaways
For a more serious, realistic and emotional approach, The Runaways is a live action adaption of the original Dragon Ball manga. This one has a much more 'Hollywood' feel to it, without ruining everything we've ever loved like Dragon Ball Evolution did. Writer and director Ray Savaya has stated if the pilot gets enough views more will be made, so make sure you check it out and check out the channel here. Watch The Runaways below:
1. Dragon Ball Z – The Sayian Saga
At almost 6 minutes and on it's way to 4 million views, chances are you may have seen Dragon Ball – The Saiyan Saga hit the web a few weeks ago! In case you've missed out, it's a trailer from K8KProductions, featuring highlights of the Saiyan Saga with live action actors in authentic cosplay and impressive special effects and coerograhy. It's a DBZ fan's wet dream! This is only a pitch (kinda like Mortal Kombat: Rebirth), with an extended trailer coming soon, so hopefully we'll see more in the future. Check out the K8K Productions Facebook page and their Youtube Channel here. Watch Dragon Ball Z – The Saiyan Saga below:
What's that? That's not enough for you? Well how about you watch Dragon Ball: Episode of Bardock again? I mean, it just came out like a year ago you greedy bastards! Dragon Ball Z: Battle of Gods is set to be released on March 30, 2013. Until then, keep practising on becoming a Super Saiyan, you'll get there someday!