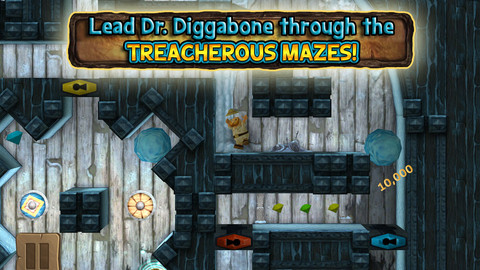 Namco Bandai Games Europe S.A.S. has announced the release of Xbox Live Arcade original Lazy Raiders, now for the iOS.
Lazy Raiders for the iOS has players reprise control of Dr. Diggabone as he, lazily, sets out to retrieve 16 Lost Relics that he believes will grant him instant fame and fortune. Dr. Diggabone is so lazy, in fact, that the player must manipulate the world for him to proceed! Tilting, spinning and flipping the game world allows this goof of a treasure hunter to navigate his surroundings, attaining gems, money and idols (180 of them!) as he progresses. The built-in accelerometers of the iPhone, iTouch and iPads are the perfect means for how the game was meant to be played.
Of course, throughout the 60 levels of gameplay, players will inevitably come across some obstacles. In this case, they come in the form of thieves, minions and boulders (nice Indy reference). Avoiding these impediments is ideal, as Dr. Diggabone is hardly in any shape to combat them. This iOS version features full Facebook integration, so you can boast about your successful treasure hunting acquisitions, made across all three environments: the Seven Cities of Gold, Arctic Caves and Wild West.
With great graphical detail being retained, and the touch screen/accelerometer controls befitting of the original gameplay concept, Lazy Raiders is a steal at only $0.99 on the app store right now. Buy it here.