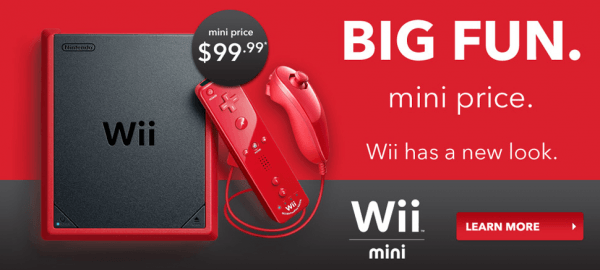 Nintendo has confirmed the release of a Wii mini console for December 7th as a Canada exclusive.
The mini console comes in a red and black theme this time around, coupled with red nunchunks.  It also has a top loading disc drive this time around and is designed to lay flat.
Unfortunately, there will be no internet connectivity for the Wii mini and additionally, no Gamecube compatibility. It definitely is intended to be a 'bare minimum' variation to the traditional Wii so no doubt the targeted audience may not be too perturbed by the lack of these features.
The Wii mini release comes at an interesting time, with the Wii U and original Wii both selling well through the week of Black Friday. Will the release of a Wii mini be successful, or even infringe on some Wii U sales? Even more worrying, will the release of another branded 'Wii' product cause more confusion between the Wii and Wii U?