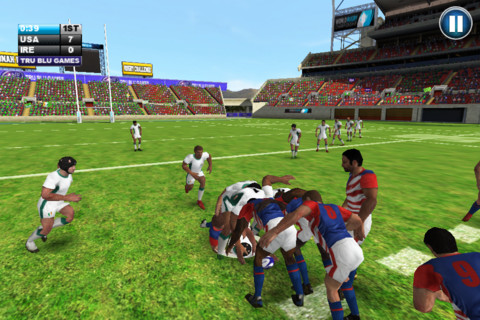 Rugby Challenge (All Blacks Rugby Challenge in New Zealand and Wallabies Rugby Challenge in Australia) has expanded to the field of mobile gaming as three new apps are now available for the iPhone, iPad and iPod Touch. The apps are the most advanced and feature-packed Rugby apps ever made, offering gamers a range of game modes from a single quick match or mini games to a full featured international competition.
The first app is entitled Jonah Lomu Rugby Challenge Mini Game. This is an updated version of the app already available, featuring two mini games (Conversion Flick and Try Zone Swipes), an online leaderboard and Facebook integration. For those who had purchased the previous version, the updated version will be available free of charge.
Jonah Lomu Rugby Challenge Quick Match is the second app available. The app contains advanced, life-like graphics, including 3D stadiums,  goals, ball and players, an online leaderboard and Facebook integration. There is only one type of match available, which is a exhibition match between two teams. All of the players of these two teams are in fact Jonah Lomu.
The last app is Jonah Lomu Rugby Challenge Gold Edition, which contains the most features out of all the apps. Expect Quick Match, Custom Match and Competition gameplay modes, a selection of 24 international teams and the All Star Jonah Lomu team, customisable weather conditions and sound effects, online leaderboards and Facebook integration. Note that none of these apps feature any head-to-head multiplayer.