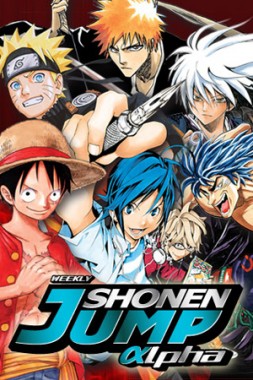 Shonen Jump fans have long lambasted Viz Media's Shonen Jump Alpha digital manga reader application as inconsequential due to the fact that it is usually 2 weeks behind the Japanese release and features far less series than it's Japanese counter-part.
Finally Viz along with Shueisha have answered the prayers of manga fans across the US with the announcements that Shonen Jump Alpha will be going simultaneous starting on January 21st, 2013.
Currently it is not known what the extent of this simultaneous release will be. We do know that all currently serialised manga in Alpha will continue and it is said that there will be more series added. It is unknown whether SJAlpha will ever feature all of the same series as Weekly Jump but there is still hope.
Weekly Shonen Jump's Sasaki Hisashi broke the news through his twitter:
I am so excited and happy we can finally announce the date of simultaneous release of SHONENJUMP in N.America. http://t.co/OBXOeHX5

— SHONENJUMP SASAKI (@SASAKI_Hisashi) November 27, 2012
Sasaki Hisashi further went on to quell the frustration of international fans who miss out on the service as it is restricted to North America only. Hisashi made it clear that they aspire to one day bring this service world wide:
We do consider about expanding simultaneous publication of SHONENJUMP to the world and in many languages. That is my dream, too.

— SHONENJUMP SASAKI (@SASAKI_Hisashi) November 27, 2012
What do you think of Shonen Jump Alpha finally becoming simultaneously released in America? Let us know your thoughts in the comments section below.