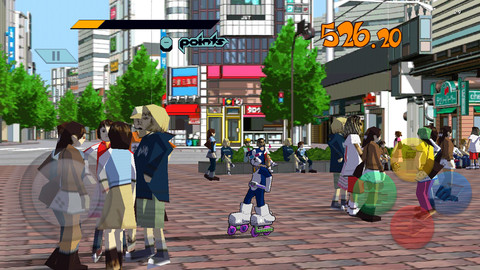 Welcome back for this week's iOS Game Suggestions. If you missed or are new to the suggestions, click on the link below and check what cool games you should be picking up for your iOS along with the introduction and disclaimer on how the suggestions work. (suggestions 1 has the disclaimer and how it all works)
MasterAbbott's iOS Game Suggestions
A VERY QUIET week on iTunes, not much to share but we have a few must buy games this week mainly in the FREE department. This week i've suggested a total of 12 great quality titles. Make sure you check them all especially Dragon Slayer, Asura Cross, Heroes of Order & Chaos, Jet Set Radio, Partia just to name a few.
Break down below :
7 – FREE Games
2 – $0.99c Games
3 – Over $0.99c Games
As always for this week's suggestions are all new titles that you should take a look at and consider spending your hard earned iTunes cash / time on.  Well the Free games just below certainly should all be given a shot as they won't cost you anything!
For The Cheapskates – FREE GAMES
 

MASTERABBOTT'S FREE GAME PICK OF THE WEEK!

Dragon Slayer – Price : FREE – Publisher – Glu Games (The Dragon Slayers are hunting once again and you have answered the call. Dragon Slayer is a visually spectacular, magic-based combat game that is brought to you by the studio that brought you Blood & Glory and Blood & Glory: Legend.) on iPad & iPhone. GET IT NOW FOR FREE

Groove Coaster Zero – Price : FREE – Publisher –

TAITO

 (GROOVE COASTER ZERO is free-to-play! Players unlock new tracks (levels) as they progress through the game, resulting in a game that grows as it is played. Adding to the proven GROOVE COASTER formula are individual track score rankings and a new feature that awards badges for perfect plays.

) runs on iPad & iPhone.

GET IT NOW FOR FREE

 
Asura Cross – Price : FREE – Publisher –

Gamevil

 (After serving in the army for two years, Jin returns home only to find himself in the middle of an ancient conspiracy. As he delves deeper into the secret world of Asura Cross, Jin meets a cast of strange men and women. He must fight them to save a friend and uncover the mysteries that surround him. Be the decision maker as you fight against enemies and alter Jin's fate!

) runs on iPad & iPhone.

GET IT NOW FOR FREE

 
Chop Chop Ninja World – Price : FREE – Publisher –

Gamerizon

 (Chop Chop Ninja World™ is an epic social action platformer where you play as a ninja, the kingdom's sole defender against the evil Shogun's might. Every ounce of your device's power was squeezed to create a beautifully rendered and varied environment. Enemies too, but who cares, you just want to kick them off screen as fast as possible, right?

) runs on iPad & iPhone.

GET IT NOW FOR FREE

 
Evofish – Price : FREE – Publisher –

Bulkypix

 (Go forth and conquer the vast expanses of the ocean. Go from prey to predator, while climbing your way to the top of the food chain. In this original arcade game, use one of the four playable Evofish species. Survive an increasingly deadly host of enemies, climb the evolutionary ladder by eating smaller fry and become the most fearsome predator in this hostile environment.

) runs on iPad & iPhone.

GET IT NOW FOR FREE

 

Heroes of Order & Chaos – Multiplayer Online – Price : FREE – Publisher – Gameloft (Team up and fight with your friends in the App Store's first Multiplayer Online Battle Arena (MOBA)! Gather your teammates, strengthen your Heroes and wipe out the enemy base in thrilling, addictive and fast-paced games. In Sinskaald Rift, a mysterious region of Haradon, immortal warriors have been fighting for centuries. They are known as the Heroes of Order & Chaos!) on iPad & iPhone. GET IT NOW FOR FREE

 
puzzlePunch! – Price : FREE – Publisher –

Zattikka

 (Puzzle Punch is a both a puzzle game AND a fighting game, where you will compete head-to-head in online play, Bluetooth local play and against the computer, connecting matching tiles to punch, kick, shoot, move and use super attacks to pummel your opponent into submission! Unlock new characters! Rack up your wins online! All you need to do is tap and drag over any two or more connected tiles of the same type, and your character will do that move! Move in quick, hit your opponent with a number of punches and kicks, then move back out before he can do the same to you! Use powerups to hit harder, move faster and charge up those super attacks quicker!

) runs on iPad & iPhone.

GET IT NOW FOR FREE
For The Bargain Hunters – 99c Games
| | |
| --- | --- |
| | Arranger – Price : $0.99 – Publisher – Ayopa Games (Quest through an opus of interactive puzzles in Arranger, a magically musical retro puzzle adventure. Developed and composed by talented musician Arman Bohn, this epic quest contains a huge cast of weird characters and fantastic environments. Arranger is a combination of magical fantasy RPG, madcap minigame collective, and classically old school adventure game.) runs on iPad & iPhone. BUY NOW |
|   | Last_Defender – Price : $0.99 – Publisher – Waterise (YOU, the Last Defender, must protect our country, for people, for family, for live, and for honor! The orcs and undead are invading this country mercilessly, and all of our warriors were down for the battle. You are the LAST DEFENDER, are you tough enough to defeat them?!) runs on iPhone & iPad. BUY NOW |
For The Millionaires – All games over $0.99
 

MasterAbbott's over 99c Pick Of The Week!

Jet Set Radio – Price : $5.49  – Publisher – SEGA (Tag, grind, and trick to the beat in SEGA's hit game Jet Set Radio! Fight for control of Tokyo-to, mark your turf with graffiti, tag walls, billboards, and even rival gang members! Perform tricks and flips on magnetically driven in-line skates, but watch out for the local police force! Heritage Collection treatment: Jet Set Radio is now part of Sega's Heritage Collection Series and features Retina Display support as well as Gamecenter achievements and leaderboards!) runs on iPhone & iPad. BUY NOW

 

Partia – Price : $3.99  – Publisher – Imago Software (Partia is a SRPG (Strategy Role-playing) video game inspired by Fire Emblem and Tear Ring Saga series. In a high fantasy setting, the game will take players through an adventure where magic and sword collide and friendship and betrayer intertwine.) runs on iPhone & iPad. BUY NOW

 
Bloons TD 5 – Price : $2.99 – Publisher –

Ninja Kiwi

 (The Bloons are back and this time they mean business! Build awesome towers, choose your favorite upgrades, hire cool new Special Agents, and pop every last invading Bloon in the best ever version of the most popular tower defense series in history. Featuring an all New Tower and Special Agent, glorious retina graphics optimized for iPhone 5, original Tracks and Special Missions, a whole new tier of Specialty Building upgrades, and a never-before-seen Monkey Lab to upgrade your towers, Bloons TD 5 delivers hours of fun and challenging play to fans and new players alike.

) runs on iPad.

BUY NOW
There you have it folks, these games should keep you busy for quite some time, well till next week at least. I'll be back next week for another dose of iOS goodness, in the meantime if anyone would also like to suggest their own suggestions, please feel free to share them in the comments section below or in the iOS forum section on the site here.
Remember kids, Play Hard Or Don't Play At All!