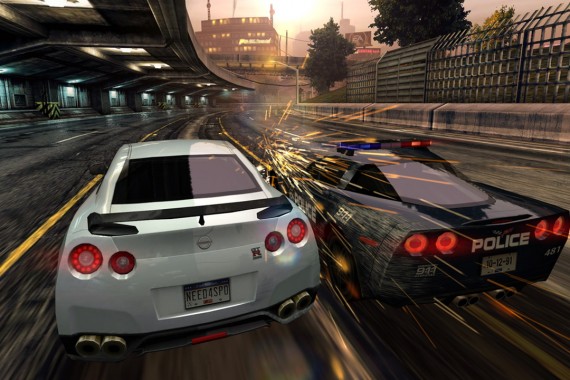 Welcome back for this week's iOS Game Suggestions. If you missed or are new to the suggestions, click on the link below and check what cool games you should be picking up for your iOS along with the introduction and disclaimer on how the suggestions work. (suggestions 1 has the disclaimer and how it all works)
MasterAbbott's iOS Game Suggestions
A great week on iTunes, as always it started slow and but ended with a bang! As always there certainly is a few must buy games this week in all departments, FREE, 99c and over 99c. This week i've suggested a total of 23 great quality titles. Make sure you check them all especially Need For Speed Most Wanted, Borderlands Legends HD, Outlaw, Sci-Fi Heroes, SpinCraft, Nano Ninjas, Nutty Fluffies just to name a few.
Break down below :
11 – FREE Games
7 – $0.99c Games
5 – Over $0.99c Games
As always for this week's suggestions are all new titles that you should take a look at and consider spending your hard earned iTunes cash / time on.  Well the Free games just below certainly should all be given a shot as they won't cost you anything!
For The Cheapskates – FREE GAMES
 

MASTERABBOTT'S FREE GAME PICK OF THE WEEK!

Outlaw – Price : FREE – Publisher – Atari (Saddle up, partner! There's a new gunslingin' bounty hunter in town! Start open firin' at them outlaws who get in your way to prove once and for all who runs this one horse town!
Based on the 1976 Atari classic, Outlaw™ features a heavy arsenal of weapons with tons of powerful add-ons and upgrades. Travel from town to town and annihilate corrupt sheriffs, banditos, ol' miners and the like. Let your shootin' do the talkin' and show who lays down the law!) on iPad & iPhone. GET IT NOW FOR FREE

House Of The Lost – Price : FREE – Publisher –

F5 Games

 (Brave the ever-changing horrors of the House of the Lost in this action/adventure game for iPad. It's the perfect game for Halloween. Your sister has disappeared into the house on your block that everyone believes is haunted, and only you can save her. As you grab your slingshot and step inside you know that you're in for the fight of your life.

) runs on iPad & iPhone.

GET IT NOW FOR FREE

 
Sci-Fi Heroes – Price : FREE – Publisher –

Majesco Entertainment

 (BECOME YOUR FAVORITE SCI-FI HERO! PLAY FOR FREE!

Far in the FUTURE… or the PAST… it doesn't really matter. The point is play as SPACE MARINES, TECHNOMANCERS, SENTIENT ROBOT BEINGS and MORE in SCI-FI HEROES! Face INSURMOUNTABLE odds and take control of these brave SCI-FI UNDERDOGS to help restore peace and KICK some serious evil Space Horde BUTT.

) runs on iPad & iPhone. GET IT NOW FOR FREE
 
Monster Warlord – Price : FREE – Publisher –

Gamevil

 (Catch Monsters and Defeat Your Enemies! Welcome to the wonderful world of Monster Warlord. Here, your guide Mika will help you as you embark on your journey in this strange new world. Along the way, you'll have to complete quests as mysterious monsters appear before you. Your objective is to capture the strongest and rarest monsters. But watch out! Around every corner lurk other players who want to challenge the strength of you and your monster!

) runs on iPad & iPhone.

GET IT NOW FOR FREE

 
Texas Poker For Prizes – Online Hold'em Action – Price : FREE – Publisher –

Gameloft

 (The real-deal online Texas Hold'em experience that lets you win REAL prizes, like trips to Vegas and 42-inch LCD televisions! (No purchase necessary) Connect to an enormous community of Texas Hold'em players from around the world. Add your Facebook and Gameloft LIVE! friends and compete in tournaments

) runs on iPad & iPhone.

GET IT NOW FOR FREE

 

Frontline Tactics – Price : FREE – Publisher – Meridian 4 (A modern take on the Tactical Turn-Based genre with cross-platform multiplayer over Mobile iOS Devices, Mac and PC. 2025 – A small splinter military group led by mad man; Akhali Muhamar threatens to take over the oil-rich nation of Fahrahn. The country is a large oil supplier to the Western world and national interests are threatened. An elite group of soldiers are called in to quell the uprising and attempt to maintain peace through military action before it turns into full scale war.) on iPad & iPhone. GET IT NOW FOR FREE

 
Bubble Island – Price : FREE – Publisher –

Wooga

 (Discover awesome, fast-paced, bubble shooting action in this addictive arcade game! Join over 60 million players on Facebook & mobile! Play 60 second rounds and challenge your friends in weekly tournaments by dropping as many bubbles as possible.The lovable Raccoon is at your side to feed your bubble shooter and help you get the top score! Unlock four exciting boosts to enhance your play, and discover Firemode when your skills are unstoppable. Login with Facebook to compete with your friends, collect your Daily Bonus, and experience the amazing fireballs that destroy everything in your way.

) runs on iPad & iPhone.

GET IT NOW FOR FREE

 

Nia: Jewel Hunter – Price : FREE – Publisher – Forrest Moon Games/Josh Presseisen (Have you got what it takes to solve the mysteries of Egypt? Solve puzzles and gather gems in this interesting 3d platform puzzler. Play the role of Nia: Jewel Hunter as she goes through different pyramids and temples, trying to unlock the hidden exits!) on iPhone & iPad. GET IT NOW FOR FREE

 

Air Patriots – Price : FREE – Publisher – Lemon Games (Air Patriots is a new kind of defense game with unique and novel game play, and "towers" that take flight! In Air Patriots, you control a squadron of planes by drawing the paths they will follow to engage the enemy! Unlike other defense games, in Air Patriots your weaponry is all mobile, allowing you to change up tactics on the fly and move your "towers" to where they're needed most!) on iPhone & iPad. GET IT NOW FOR FREE

 

Coin Army – Price : FREE – Publisher – Chillingo (Frenzied coin dozing fun with a military twist! Chuck coins at the enemy tanks and soldiers as they unleash a coin based attack of epic proportions. Defend yourself against their monetary attack and retaliate with the cascade of coins you have at your disposal!) on iPhone & iPad. GET IT NOW FOR FREE

 

SpinCraft – Price : FREE – Publisher – Bulkypix (Meet Pyp, the cute pizza boy in a wonderful adventure! Follow him and his loyal robotic friend ANVI in their quest for glory to become the fastest pizza delivery boys in the intergalactic pizza business. Collect all the crystals on the road to move forward and reach your customer as fast as you can. Explore the colorful universe through this console-quality 3D-platformer, and find all the hidden treasures. Upgrade your SpinCraft, discover new power-ups and unlock dozens of amazing skins!
But beware! The road will be filled with traps and enemies you have to overcome to fulfill your quest!) on iPhone & iPad. GET IT NOW FOR FREE
For The Bargain Hunters – 99c Games
Nano Ninjas – Price : $0.99 – Publisher – Bad Chunk (Nano Ninjas are unleashed onto the iPhone, iPod & iPad to deal a heavy blow on a dastardly Robot Samurai Army. Launch your assault and adapt your strategy in this fantastically compelling game. Free up some time, this is a dangerously addictive game for both casual and hardened hand-held gamers. Humorous throughout and hard to put down.) runs on iPad & iPhone. BUY NOW

 

Wreck-It-Ralph – Price : $0.99 – Publisher – Disney (Hit the arcade and game-hop between 3 CHALLENGING arcade games based on the movie! : Fix-it Felix Jr.: Hero's Duty: Sweet Climber. Also compete against your friends – and the world – for high scores in each game! Get to Game Central Station and start playing today!) runs on iPhone & iPad. BUY NOW

 

Nutty Fluffies – Price : $0.99 – Publisher – UBISOFT (Nutty Fluffies uses compelling physics and a unique, touch-based interface to create a wild roller coaster ride on your touch-screen device. Race and perfect your skills in 26 tricky rides, from classic wooden coasters to steel speed demons! Use rockets, Jump jets and magnets, earn hearts and coins, run huge loops, massive jumps and stomach-turning, upside-down tracks!) runs on iPhone & iPad. BUY NOW

 
Slide Circus – Price : $0.99 – Publisher –

FDG Entertainment

 (You instantly feel the difference the moment you touch it. Slide the tiles and move them beyond the border. They re-appear on the other side! This simple idea makes re-arranging the artworks so much more elegant and satisfying. Our team carefully put together over 90 beautiful puzzle artworks, which are a feast for the eye especially on Retina Display. Magical trick tiles like warper and stopper keep the game interesting and challenging.) runs on iPhone & iPad.

BUY NOW

 

Pixld – Price : $0.99 – Publisher – Airtight Mobile (Lose yourself in PIXLD: the deeply engaging, deceptively simple puzzler from the makers of Quantum Conundrum. A stylish, unique take on match puzzler games, PIXLD pits you against a ticking clock to match and destroy as many blocks as you can. Tap one to change its color – and the color of every block surrounding it. Destroy power-up blocks to add precious seconds to the clock or boost your score. At once hypnotic and frenetic, the puzzle experience of PIXLD will grab you by the brain and never let go.) runs on iPhone & iPad. BUY NOW 

 
Galactic Phantasy Prelude  – Price : $0.99 – Publisher –

Moonfish Software Ldt

 (Galactic Phantasy Prelude on iOS – not a one-way track, but a freedom to live a pirate life in space for hardcore players, at only USD0.99 for a limited time!  Unlike most of the other games on iOS, Galactic Phantasy Prelude is targeted at hardcore gamers. We don't give you a one-way track gameplay, because we want you choose your own way to experience a life as a space pirate. It is a sandbox with a mix of many game systems. Experience an epic story in which you start your humble life with a stolen spaceship. You would do whatever it takes to stay alive in the world of pirates, be it robbing, trading, smuggling and battling. You would build your own fleet of spaceships, uncover the secrets of the Sphinx Empire and finally save your home country Galactic Union 20.) runs on iPhone & iPad.

BUY NOW

 
8th Floor: Secret Of Castle – Price : $0.99 – Publisher –

PictoSoft

 (A gorgeous 3D physics-based puzzle begins!
Great challenges for your creativity! Assemble your gears in various 3D spaces on 8th floor. Absolutely, "8th Floor: Secret of Castle" is a totally new 3D puzzler you haven't seen before. Dynamic red gears are spinning continuously. Your goal is transferring power to a pivot having flying flags by linking various gears in a right way. Consider all elements wisely such as shape of gears, sizes, map structures and arranged gears. OK. Let's challenge to be the puzzle master in your castle.) runs on iPhone & iPad.

BUY NOW
For The Millionaires – All games over $0.99
 

MasterAbbott's over 99c Pick Of The Week!

Need For Speed Most Wanted – Price : $7.49  – Publisher – EA Mobile (Buckle up, hit the gas and hold on tight; you're in for the ride of your life. Outrun cops, outsmart rivals – and outdrive your friends – in the most dangerous Need for Speed yet. Do you dare to be the Most Wanted?) runs on iPhone & iPad. BUY NOW

 

Borderlands Legends HD – Price : $7.49  – Publisher – 2K Games (Borderlands Legends is the latest addition to the Borderland franchise, specifically designed for mobile and tablet. Control Mordecai, Lilith, Brick and Roland and take out the oncoming waves of enemies. Collect in-game cash by destroying enemies and purchase new weapons. Earn experience and level up your characters, unlocking new skills and abilities! Each character has their own set of unique skills and abilities, use them wisely to survive!) runs on iPhone & iPad. BUY NOW

 
ARC Squadron – Price : $5.49 – Publisher –

Psyonix

 (An evil race known as the Guardians is taking over the universe, ravaging planets, and killing all peaceful life forms. You are the galaxy's only hope for salvation. As an elite pilot serving in the ARC Squadron, you are tasked to take on the Guardians in head-to-head combat and bring down their empire. With simple one-touch controls, you can shoot, blast, and annihilate enemy forces to hunt down each of the nine Guardian lords and destroy them once and for all. The ultimate battle for the galaxy is nigh. Are you on board?

) runs on iPad.

BUY NOW

 
Jonah Lomu Rugby Challenge: Gold Edition – Price : $6.49 – Publisher –

Home Entertainment Suppliers

 (Experience all the emotion and adrenaline of world class Rugby Union from quick match through to international competition, as you play your way to becoming a Rugby superstar! Realism takes over as you're propelled into the on-field experience through advanced life-like graphics, as you dominate the field with a selection of 24 international teams or the bonus All Star Jonah Lomu team, you can almost smell the sweat of being in the action.) runs iPad & iPhone. BUY NOW
 

iBomber Attack – Price : $2.99  – Publisher – Chillingo (The legendary iBomber series returns but this time it's time to ATTACK! Jump into your tank and get ready to blast your way around Europe and defeat the enemy in this visceral tour of destruction! With 24 missions full of explosive action to go at, iBomber Attack is a dose of high-octane entertainment that you won't be able to put down) runs on iPhone & iPad. BUY NOW
There you have it folks, these games should keep you busy for quite some time, well till next week at least. I'll be back next week for another dose of iOS goodness, in the meantime if anyone would also like to suggest their own suggestions, please feel free to share them in the comments section below or in the iOS forum section on the site here.
Remember kids,
Play Hard Or Don't Play At All!