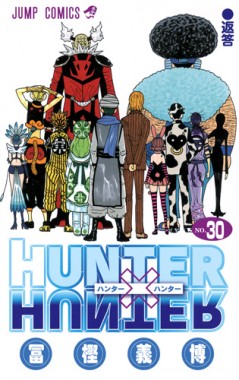 The Hunter x Hunter manga has been on hiatus for more than 8 months now after ending on a major cliffhanger at chapter 340. Fans of the series have managed to satisfy their thirst for Hunter x Hunter with the 2011 anime adaptation which is currently airing on NTV, but the hunger for Hunter x Hunter manga is one that has proven itself insatiable. Thankfully for fans, news has risen that points towards a return date for the manga.
Shueisha recently revealed in their Weekly Shonen Jump magazine that volumes 31 and 32 of the Hunter x Hunter manga would see a release on December 2nd and 28th respectively. If history tells us anything it is that Yoshihiro Togashi has always returned following the release of new volumes of the manga. Usually in his hiatus downtime he corrects the art of the chapters for volume release and once done with that he returns to working on the manga.
Previously he returned following the release of volumes 28 and 29, so one could suppose that Togashi will return to working on the manga in January at some point, which coincidentally would be perfect timing for the premiere of the Hunter x Hunter: Phantom Rouge movie. While no solid return date has been confirmed all sign point to a January return date. As always we will keep you updated on all Hunter x Hunter news as it comes to light.