 ESPN has heard your voices and is now offering their full programming to Xbox Live. This means ESPN, ESPN2, ESPN3, ESPNU, Buzzer Beater and Goal Line are all now accessible from the ESPN app. What's the big difference? Before the update, users had very little NFL coverage. Now with the expanded programming, you can now access Monday Night Football! And let's not forget about MLB or NBA games. Here are some more features to expect when powering up your new ESPN app:
My Sports. ESPN on Xbox allows you to choose your favorite sports and teams and designate these channels as "My Sports," so you can jump directly into the games and content you care most about. ESPN on Xbox will automatically provide you with a personalized daily feed of live events, news and highlights based on "My Sports," catching you up on only the teams and sports you care most about.
Mini Guide. The mini-guide gives you a preview and quick access to all the sports content you care about right at the bottom of the screen. This fall it is all about football, and now the best fans don't have to miss anything. Is another game tied up late in the fourth quarter? Instantly switch to that game. Halftime? Play the earlier highlights.
Split Screen. Because true sports fans want to watch more than one game at a time, ESPN on Xbox has a split screen, allowing you to watch two events at once. Watch live events on both screens or a live event on one while you catch up on news and highlights on the other. You can even control both screens independently, pausing and rewinding each separately so you never miss a second of the action.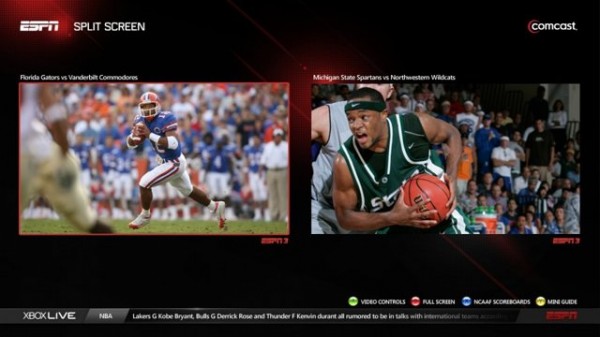 Gesture Control and Voice Control with Kinect for Xbox 360. Focus on your team instead of looking for the remote. Navigate through the content guide, skip to the next highlight, or play, pause, and rewind that big play…all with the wave of your hand or the sound of your voice.
Reminders. Too many big games to keep track of in your head? Not to worry – ESPN on Xbox now lets you tag games and set reminders so you never miss a moment.
Interactive ESPN BottomLine. The ESPN BottomLine keeps you in the know with breaking news and score updates from around the world of sports. Xbox has added interactive functionality that raises the bar for fans everywhere, with live alerts and the capability to jump to different sports or skip to the next story.
So rush over to your Xbox and download the latest ESPN update to begin watching your favorite live sports/shows. *Xbox Live Gold subscription and an ESPN participating affiliate are both required in using this app.*