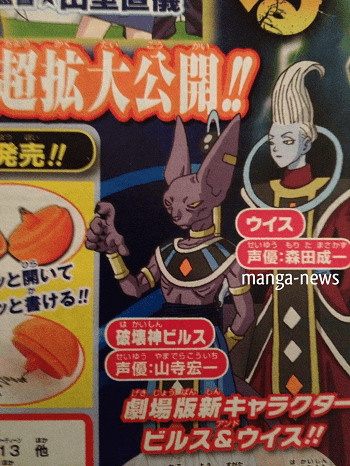 If you have been following the slow reveal of information for the 2013 Dragon Ball Z anime movie then you probably already know that the movie will be called Battle of Gods and would feature Goku and the cast fighting against Egyptian Gods.
Well today MangaNewsJapon revealed on Twitter that the name of the Egyptian god Anubis, or the purple hairless cat that appears to be the main antagonist of the movie, is now named the God of Destruction Bills. It is worth noting that the voice actor who is voicing Bills is the same voice actor who provided the voice for Spike Spiegal from Cowboy Bebop and Ghost in the Shell's Togusa, Kouichi Yamadera.
It is also worth noting that the character to the right of Bills is named Wiss who will be voiced by Masakazu Morita who has handled Bleach's Ichigo.