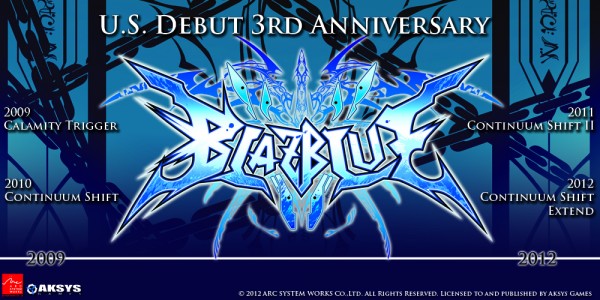 To continue in the celebration of the 3rd anniversary of BlazBlue's US release, Aksys Games have announced a further two contests which are live right now.
One is titled "Caption the Blue", and requires an entrant to write one set of captions for a pre-determined image. That image can be found on the contest page here. The prize is a rare BlazBlue Jin Kisaragi "Dakimakura" pillow cover. So if you're a fan, visit that page and enter for a chance to win! The second, and final new contest, is called "All Eyes on the Azure" and requires an entrant to simply spread the good word on the Northeast Championships XIII, based in Philadelphia, PA, which will feature a BlazBlue tournament, via Twitter. The prize is a one-of-a-kind signed concept artwork from the Arc System Works staff! Details can be found on its contest page here.
Also, as a reminder, BlazBlue: Continuum Shift EXTEND is available at a cheaper price-point than the original's RRP, and considering it comes with a myriad of additional features, all of the Continuum Shift DLC characters as well as Relius Clover, it'd definitely value for money. For more information on EXTEND and where to buy it, visit the official Aksys Games website.