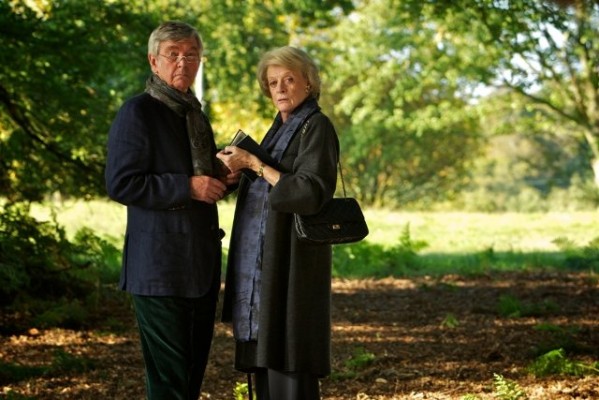 A brand new Australian trailer has been released by Paramount Pictures AU for Dustin Hoffman's directorial debut, Quartet. The film is to be released here on Boxing Day, December 26th, 2012.
The film stars Academy Award winner Maggie Smith, 2-time Academy Award nominee Tom Courtenay and the award-winning actor and comedian that is especially loved here in Australia, the hilarious Billy Connolly! Rounding out the main cast are BAFTA and Tony Award winner Pauline Collins and Emmy and Golden Globe nominated Michael Gambon, well known for his recent portrayal of Professor Dumbledore – a role he had taken on after the passing of the original Professor Dumbledore, the late Richard Harris.
The film is a touching, yet mischievous comedy about three friends, Cissy, Wilf and Reg, all retired operatic quartet members living in the same gifted musicians' retirement home, who revive a theatrical rivalry with the arrival of their fourth former member, Jean…Reg's ex-wife! What occurs is a reunion that stirs up old secrets and threatens to stop the show before their annual memorial concert on the Birthday of famous Italian composer, Giuseppe Verdi.
Watch the new trailer below, and for future updates on this directorial debut of Dustin Hoffman, keep your eye on us here at Capsule Computers!
*Updated Synopsis – 12th November*
Beecham House is abuzz. The rumour circling the halls is that the home for retired musicians is soon to play host to a new resident. Word is, it's a star. For Reginald Paget (Tom Courtenay), Wilfred Bond (Billy Connolly) and Cecily Robson (Pauline Collins) this sort of talk is par for the course at the gossipy home. But they're in for a special shock when the new arrival turns out to be none other than their former singing partner, Jean Horton (Maggie Smith). Her subsequent career as a star soloist, and the ego that accompanied it, split up their long friendship and ended her marriage to Reggie, who takes the news of her arrival particularly hard. Can the passage of time heal old wounds? And will the famous quartet be able to patch up their differences in time for Beecham House's gala concert?