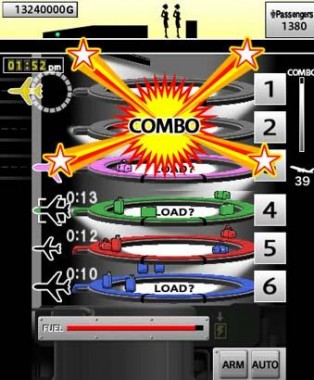 If this week's Nintendo downloads were awarded prizes for witty titles, Level-5's Aero Porter would take home the gold. This week, the airport sim/puzzle title has hit the eShop on the 3DS for $4.99, and is a lot broader than one might think.
Check out this description for some deets:
In AERO PORTER, the player is charged with managing the busy day-to-day operations of a bustling airport through gameplay that includes both clever puzzle elements and simulation challenges. While running their flight hub, players sort color-coded luggage onto conveyor belts while avoiding mishaps and delays, all while ensuring the on-time departures of airplanes. As the game progresses, players earn money and increase their passengers in order to expand their airport, unlock new gameplay elements, and raise the level of challenge. Players are also able to design and share their own planes with a wide range of colors and patterns via StreetPass.
While that may be the big release on the eShop, there still is other offerings this week. For $4.99, players can sink their teeth into the 1991 version of Pac-Man, featuring a simultaneous co-op mode. Bloons TD 4 also has appeared, which offers a tower defense romp featuring…well, Bloons at $4.99. Finally, Invasion of the Alien Blobs! is your cheapie this week at $1.99, and is sure to catch the interest of shooter fans.